Behavioral Science has long reigned as one of the oldest scientific disciplines within human history. The subject forms an umbrella for anthropology, sociology, and psychology. It is these very three subjects that will make up the GACE Behavioral Science exam.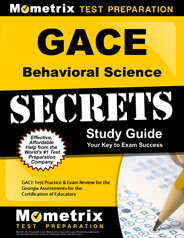 Prepare with our GACE Behavioral Science Study Guide and Practice Questions. Print or eBook. Guaranteed to raise your score. Get started today!
Also known as the Georgia Assessments for the Certification of Educators, this exam is issued to any and all incoming teachers in Georgia. Its purpose is to make sure new teachers are competent enough with their fields to enter the classroom as a professional. Naturally, the GACE Behavioral Science test is geared specifically toward aspiring Behavioral Science teachers just like you.
Like its sibling exams, the Behavioral Science exam is made up of two subtests. You will be expected to answer 60 multiple questions in a two hour span for each exam, totaling to 120 questions and four hours. Test II covers Sociology (80 percent) and Anthropology (20 percent), while Test I deals with Anthropology (20 percent) and Psychology (80 percent). You cannot complete your teaching certification without taking and passing both of these tests.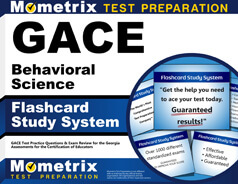 GACE Behavioral Science Flashcards. Proven GACE Behavioral Science test flashcards raise your score on the GACE Behavioral Science test. Guaranteed.
Regardless of how you choose to tackle the exam, you will need thorough study tools in order to perform at your absolute best. The Mometrix Test Preparation team is here to help you with our GACE Behavioral Science practice test.
We have conducted extensive research while crafting this practice test, all to ensure it is faithfully accurate to its source. You can trust that this study tool will grant you an accurate glimpse of what to expect on test day, ensuring you're thoroughly prepared for anything the test may throw at you.
Best of all, this practice test is 100 percent free for you to use as much as you need throughout your studies. For best results, we recommend using it alongside our companion GACE Behavioral Science study guide. Good luck!