Biology has long existed as one of the most widely studied subjects by high schoolers across the United States. In fact, you probably have memories of your high school class in this very subject. You're likely on this page, however, because you're planning to teach Biology professionally and are nearing the end of your training. Congratulations on making it this far! You've nearly reached the finish line, but there's one last hurdle you have to clear before you can earn your certification. This hurdle is the GACE Biology exam.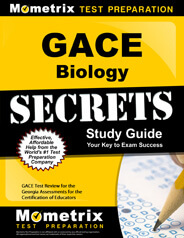 Prepare with our GACE Biology Study Guide and Practice Questions. Print or eBook. Guaranteed to raise your score. Get started today!
In Georgia, all incoming teachers are required to take a GACE (Georgia Assessments for the Certification of Educators) test relating to their specific field. The purpose of this specific exam is to assess your preparedness to teach professionally.
Like the other GACE subject tests, the GACE Biology test is split up into two sections. Both of these sections are timed, and made up of 80 multiple choice ("selected-response") questions. You will be given a total of two hours to complete each subtest, and must finish both in order to pass the full exam and receive your certification.
Test I deals with Genetics and Evolution (50 percent) and Cell Biology: Cell Structure and Function (50 percent).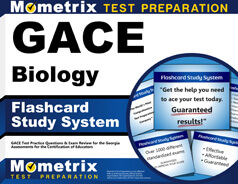 GACE Biology Flashcards. Proven GACE Biology test flashcards raise your score on the GACE Biology test. Guaranteed.
In terms of subject matter, Test II will cover Ecology:
Organisms and Environments (40 percent)
Organismal Biology (30 percent)
Scientific Inquiry, Processes, Technology, and Society (30 percent)
The Mometrix Test Preparation team understands how important this exam is to your career goals. To help, we've composed a GACE Biology practice test, which you will find on this page. We have created this study tool through painstaking research of the real exam's content, all to bring you as accurate an example of the test as possible. Feel free to use our practice test to familiarize yourself with how the exam will work, as well as figure out where your weaknesses and strengths lie with the material.