Few industries in today's world are more important than computer technology. This particular field has undergone an immeasurable amount of growth in the past few decades—so much so that we need a constant influx of professionals to help manage all the new innovations bursting forth.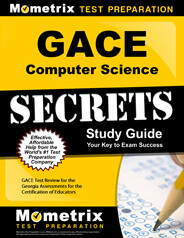 Prepare with our GACE Computer Science Study Guide and Practice Questions. Print or eBook. Guaranteed to raise your score. Get started today!
It will be the responsibility of computer technology educators to help train new generations of specialists. As an incoming teacher in the field, you are currently training to accept this responsibility.
Before you can start your career, however, you will have to complete one final task. In Georgia, all incoming educators are required to earn a passing score on the GACE (Georgia Assessments for the Certification of Educators) exam specific to their field. In your case, this will be the GACE Computer Technology exam. This exam is designed to assess your preparedness to start your career by measuring your practical skills and comprehension.
Unlike much of the other GACE tests, the GACE Computer Technology test is composed of only one section. It features 100 multiple choice ("selected-response") questions, which you must complete within a total of three hours.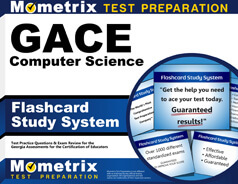 GACE Computer Science Flashcards. Proven GACE Computer Science test flashcards raise your score on the GACE Computer Science test. Guaranteed.
Each of these questions deals with one of the following subjects:
Programming Language Topics (33.3 percent)
Program Design and Development (33.3 percent)
Technology Applications Core (33.3 percent)
At Mometrix Test Preparation, we care about your success. That's why we've put together our GACE Computer Technology practice test. This 100 percent free study tool is designed to familiarize you with the content of the actual exam.
We have conducted countless hours of thorough research all to ensure this practice test is as accurate to the real test as possible. We encourage you to use this exam not only to learn how the exam works, but gain a sense of where your weaknesses lie with the material so you can fine tune your study plan appropriately.
For best results, we recommend using our practice test alongside our GACE Computer Technology study guide. Good luck!