Across the world, education thrives on two distinct elements: instruction and curriculum. Many education training programs incorporate these two aspects into their course loads. In fact, without these elements, teachers cannot fulfill their career duties; instruction and curriculum form the core foundation of classroom leadership.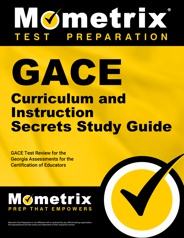 Prepare with our GACE Curriculum and Instruction Study Guide and Practice Questions. Print or eBook. Guaranteed to raise your score. Get started today!
As an aspiring curriculum and instruction teacher, you know the importance of these two tasks. In fact, you've likely spent countless hours dedicating yourself to learning everything there is to know. Now that you're nearing the end of your training, however, one large task lies ahead of you.
Incoming curriculum and instruction specialists in Georgia, specifically, will have to take and earn a passing score on the GACE Curriculum and Instruction exam. Like other GACE exams of its kind, this exam is designed to evaluate your field-related knowledge as well as how prepared you are to launch your career.
The GACE Curriculum and Instruction test is unique in that it features only one main section—unlike most GACE tests, which split off into two portions. The test features 103 questions in all. Three of them require essay ("constructed-response") answers, while the remaining 100 are multiple choice ("selected-response"). You will be granted two hours, 45 minutes to complete the exam in its entirety.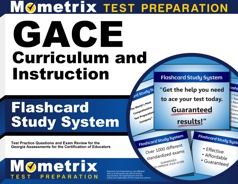 GACE Curriculum and Instruction Flashcards. Proven GACE Curriculum and Instruction test flashcards raise your score on the GACE Curriculum and Instruction test. Guaranteed.
The test's questions will pertain to a number of relevant subjects. Constructed-response questions deal specifically with Analysis (25 percent). The rest of the test focuses on Professional Practices (12 percent), Curriculum and Instruction (23 percent), Assessment (14 percent), Students as Learners (14 percent), and Research (12 percent).
The Mometrix Test Preparation team wants to see you succeed. That's why we want to offer you our GACE Curriculum and Instruction practice test. This study tool has been designed with the help of thorough research of the actual test's contents, all to familiarize you with what to expect come exam day. As such, our practice test is ideal for those wanting to learn how the real test will work. It is also recommended for those wanting to fine tune their study plan by getting to know where their weaknesses and strengths lie with the material.
Our practice test is 100 percent free for you to use as you prepare for this important exam. For best results, we recommend pairing it with our companion GACE Curriculum and Instruction study guide. Good luck!