It can easily be argued that early childhood education is one of, if not the most important phases of a child's intellectual and academic development. These initial years of education provide students with a foundation for their future success. It is with early childhood education teachers that millions of people pick up skills that will last them their entire lives. Naturally, each and every child also deserves access to only the most qualified early childhood education professionals.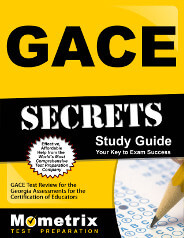 Prepare with our GACE Study Guide and Practice Questions. Print or eBook. Guaranteed to raise your score. Get started today!
If you're on this page, you're likely looking to make early childhood education your career and are reaching the end of your training. Congratulations! You've invested years of hard work into making it this far, all of which will culminate in the completion of one final task: earning a passing score on the GACE Early Childhood Special Education General Curriculum exam.
This exam (and your field) has slightly different requirements than the average ECE program. Since you will be responsible for educating young children with special needs, you will need a more specialized skill set. This particular GACE exam will ensure you have gained and fully comprehend those necessary skills.
Like the other GACE subject tests, the GACE Early Childhood Special Education General Curriculum test splits into two separate subtests, known officially as Tests I an II. You can take these subtests individually or at the same time. They contain 85 multiple choice ("selected-response") questions each, and you will receive two hours to complete them. This totals to four hours for the full exam. Each exam also caters to their own unique set of subjects.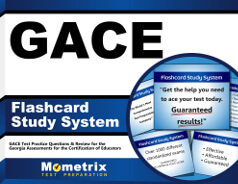 GACE Flashcards. Proven GACE test flashcards raise your score on the GACE test. Guaranteed.
Test I deals with:
Social Studies (17 percent)
English Language Arts (34 percent)
Science (22 percent)
Mathematics (27 percent)
Test II covers:
Foundations and Professional Responsibilities (16 percent)
Development and Characteristics of Learners (20 percent)
 Evaluation and Assessment (16 percent)
Instruction (24 percent)
Planning the Learning Environment and Social Interactions (24 percent)
Scoring well on this exam requires comprehensive study tools. The Mometrix Test Preparation team is here to help with our GACE Early Childhood Special Education General Curriculum practice test. It is not only 100 percent free, but designed to give you an accurate example of what to expect on test day. Feel free to use it to familiarize yourself with the contents of this important exam.
This study tool works well whether used standalone or alongside our GACE Early Childhood Special Education General Curriculum study guide. Good luck!
Click Here for GACE Practice Exam