When it comes to understanding how our society works, few disciplines are more important than Family and Consumer Sciences. This subject is especially important for learning how to reach out to today's students, as the media and products they're exposed to on a daily basis, as well as the households they grow up in, are vitally important components to understanding how they develop and interact with the world.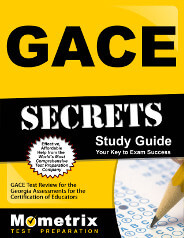 Prepare with our GACE Study Guide and Practice Questions. Print or eBook. Guaranteed to raise your score. Get started today!
As an aspiring Family and Consumer Sciences instructor, it will be your job to help professionals understand this important discipline. Before you can launch your career, however, you must first prove you've picked up all the necessary skills yourself.
This is where the GACE (Georgia Assessments for the Certification of Educators) exam comes in. The GACE exam is a requirement for all teachers in Georgia, and serves as a means of evaluating whether they're ready to teach professionally. Teachers within your specific field will have to earn a passing score on the GACE Family and Consumer Sciences Education exam.
Like the majority of the GACE subject tests, the GACE Family and Consumer Sciences Education test is made up of two sections: Tests I and II. Each of these exams is composed of 80 multiple choice ("selected-response") questions, which you will be given two hours to complete. The entire exam will take up about four hours. Additionally, each section features their own set of subjects.
Test I deals with: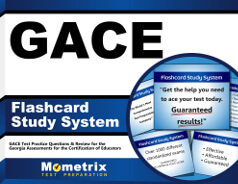 GACE Flashcards. Proven GACE test flashcards raise your score on the GACE test. Guaranteed.
Textiles and Apparel (20 percent)
Resource Management (30 percent)
Food Science, Nutrition, and Wellness (50 percent)
Test II concentrates on:
Housing, Interiors, and Living Environments (16 percent)
Early Childhood Education and Community Services (40 percent)
Foundations and Pathways of Family and Consumer Sciences (22 percent)
Family and Interpersonal Relationships (22 percent)
You will need to study thoroughly in order to score well on this exam. The Mometrix Test Preparation team is here to help in this regard with our GACE Family and Consumer Sciences Education practice test.
Designed with accuracy in mind, this practice test is meant to serve as an accurate mirror of the full exam. We encourage you to use it to learn what to expect come test day, so you can be prepared well ahead of time.
This practice test is 100 percent free to use and pairs well with our GACE Family and Consumer Sciences Education study guide. We hope it will become an effective part of your study plan. Good luck!
Click Here for GACE Practice Exam