High schoolers all across the United States typically have to take a Geography class at some point during their final four years of compulsory education—typically during their freshman year. In fact, you've more than likely take a Geography class yourself during your earlier years of education. You are also likely aware of the need for skilled Geography educators, because this particular subject is so vital to every student's academic development.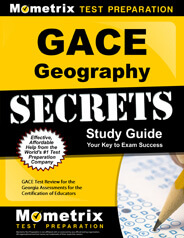 Prepare with our GACE Geography Study Guide and Practice Questions. Print or eBook. Guaranteed to raise your score. Get started today!
You've spent countless hours and immeasurable effort trying to become this type of teacher for your future students. Now your hard work is about to pay off. Congratulations on making it this far! Before you can get started in the classroom, however, you must first prove you've mastered all the skills you'll need to work professionally.
In Georgia, all incoming teachers are required to take and earn a passing score on the GACE (Georgia Assessments for the Certification of Educators) exam. Geography teachers specifically will have to take the GACE Geography exam.
The GACE Geography test is, much like the many other GACE subject tests, fairly complex in terms of format. It splits into two sections: Tests I and II.Both of these sections feature 60 multiple choice ("selected-response") questions, which you'll have two hours to complete. As a whole, the exam will span four hours. Each test section also features its own unique subjects, or "subareas."
Test II focuses on the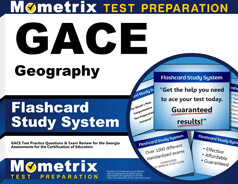 GACE Geography Flashcards. Proven GACE Geography test flashcards raise your score on the GACE Geography test. Guaranteed.
Geography of Georgia (24 percent)
Regional Geography (36 percent)
Human Geography (40 percent)
Test I's subjects include:
Environment and Society (32 percent)
Physical Geography (32 percent)
Geography Literacy and Tools (38 percent)
The Mometrix Test Preparation team understands how important this exam is to your career goals. To help, we would like to offer you our GACE Geography practice test. We have designed this study tool with accuracy in mind and through the help of thorough research.
Our goal is to provide you with a comprehensive example of the actual test in terms of format and material, so you can familiarize yourself well ahead of time and create a more focused study plan.
We hope this practice test will serve you well as you prepare. Feel free to pair it with our companion GACE Geography study guide. Good luck!