Few skills are more important to our society than reading. In fact, this skill has reigned in its importance to our society for centuries, and gains increasing significance with each decade. In today's increasingly technology-dependent world, the ability to read and comprehend information is perhaps more important than ever before. However, in many parts of the country, reading education lags behind severely, putting many unfortunate students at a disadvantage.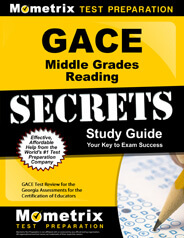 Prepare with our GACE Middle Grades Reading Study Guide and Practice Questions. Print or eBook. Guaranteed to raise your score. Get started today!
It is the job of middle grades reading educators, among many others in related fields, to keep today's generation of students up to speed in terms of reading ability.
There's no doubt this line of work is important. That's why, in Georgia, all aspiring middle grades reading educators must earn a passing score on the GACE Middle Grades Reading exam before they can proceed with their careers.
Unlike the majority of GACE tests, however, the GACE Middle Grades Reading test features just one section. It contains a total of 80 multiple choice ("selected-response") questions, and will take two and a half hours to finish.
This test deals with several subjects relevant to your field, including Diversity and Literate Environment (30 percent); Assessment and Evaluation (35 percent); and Curriculum and Instruction (35 percent).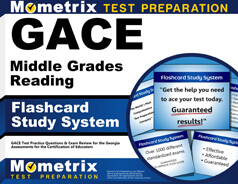 GACE Middle Grades Reading Flashcards. Proven GACE test flashcards raise your score on the GACE Middle Grades Reading test. Guaranteed.
To perform well on this important exam, you'll need only the most thorough study tools. On this page, the Mometrix Test Preparation team would like to offer you our GACE Middle Grades Reading practice test.
We have conducted thorough research to ensure this practice test is as accurate to the actual exam as possible. This study tool is ideal for getting to know how the test will work, as well as targeting your studies based on your performance and which areas you are weakest in.
Best of all, this practice test is 100 percent free for you to use at any time. We hope it will fit well into your study plan. You can use it either on its own or alongside our corresponding GACE Middle Grades Reading study guide. Good luck!