Physics is most commonly known as a core subject within the average high school curriculum. Millions of high school students across the country will have to take a physics class at some point during their academic careers. In fact, you more than likely took a physics class back during your high school years. As such, you know part of what a student needs to thrive in this class is an engaging, knowledgeable instructor—what you're training to become.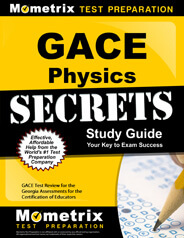 Prepare with our GACE Physics Study Guide and Practice Questions. Print or eBook. Guaranteed to raise your score. Get started today!
In Georgia, every incoming teacher is required to earn a passing score on the GACE (Georgia Assessments for the Certification of Educators) exam for their subject prior to starting their career. In your case, this will be the GACE Physics exam.
Like its sibling subject tests, the GACE Physics test sections off into two subtests. They are officially referred to as Tests I and II.
Each of these subtests contains 60 selected-response (multiple choice) questions, as well as a two hour time limit.
Each subtest also features its own unique subjects for its questions to focus on.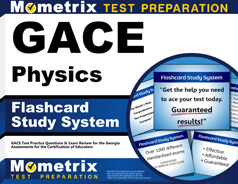 GACE Physics Flashcards. Proven GACE Physics test flashcards raise your score on the GACE Physics test. Guaranteed.
Test I's subjects include:
Thermodynamics, Atomic and Modern Physics (40 percent)
Mechanics (60 percent)
Test II deals with:
Scientific Inquiry, Processes, Technology, and Society (28 percent)
Optics and Waves (32 percent)
Electricity and Magnetism (40 percent)
In order to score well on this exam, you'll need a thorough study plan and comprehensive study material. The Mometrix Test Preparation team is here to help you prepare in this regard with our GACE Physics practice test. Designed through the help of careful research, this practice test is ideal for familiarizing yourself with the exam's contents.
Each practice question closely mirrors what you can expect to find on the actual test. This also makes it ideal for figuring out which areas of the exam may need more of your attention as you study.
We hope you will choose to incorporate our practice test into your study plan. While it is quite effective on its own, it works best in conjunction with our GACE Physics study guide. Good luck, and happy studying!