So you've decided to become a teacher. Congratulations on taking your first steps toward this rewarding career path! You're now on your way to being an important guiding light for today's youth as they embark upon their academic career and their future. However, before you can kick off your official training, you must complete one small task.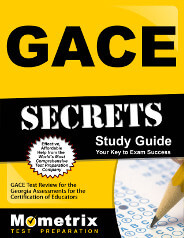 Prepare with our GACE Study Guide and Practice Questions. Print or eBook. Guaranteed to raise your score. Get started today!
Each and every Georgia teacher must take the GACE (Georgia Assessments for the Certification of Educators) exam for their field before starting their professional careers.
In your case, you will be taking the GACE Program Admission exam for the opposite reason. You can't start off your official teacher's certification training without first earning a passing score on this exam.
The Program Admission exam will gauge how prepared you are to enter your certification program of choice.
As such, the GACE Program Admission test is fairly complex, and covers much of the same materials as your standard entrance exam. It splits up into three subtests.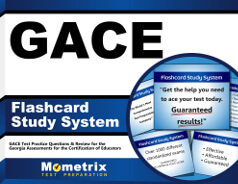 GACE Flashcards. Proven GACE test flashcards raise your score on the GACE test. Guaranteed.
For Test I, you'll be given 56 selected-response questions and 85 minutes to answer each of them.
Test II solely features 56 selected-response questions, which you'll have 85 minutes to finish.
Finally, Test III is composed of two "constructed-response" (essay) questions, and 40 "selected-response" (multiple choice) questions, with a time allotment of 100 questions.
As a whole, the Program Admission test has 154 questions and a four and a half hour time span.
Furthermore, each subtest features different subjects, or "subareas."
Test I concentrates on reading, its subjects including Integration of Knowledge and Ideas (35 percent); Craft, Structure, and Language Skills (30 percent); and Key Ideas and Details (35 percent).
The mathematics-oriented Test II deals with Statistics and Probability (20 percent); Number and Quantity (30 percent); Geometry (20 percent); and Algebra and Functions (30 percent).
Test III is writing-based, and focuses on Language and Research Skills for Writing (40 percent), and Text Types, Purposes, and Production (60 percent). The latter subject is composed entirely of constructed-response questions. 
Doing well on this important exam will require a thorough study plan. Consider integrating the Mometrix Test Preparation GACE Program Admission practice test into your own! This free study tool is designed to give you an accurate example of how the real test will work, allowing you the chance for more comprehensive preparation well ahead of test day. Our practice test pairs best with our GACE Program Admission study guide, but works just as well on its own. We hope it will serve you well as you prepare for your exam. Good luck!
Click Here for GACE Practice Exam