Every educational professional knows a healthy student is a happy and productive student. However, a student's mental health is a too often neglected component of their overall well being.
As an aspiring school psychologist, it will be your responsibility to tend to the mental health needs of every student in your school—a task that will prove to be no easy feat. You will only have to know how to approach each student with professionalism and sensitivity, but know exactly what actions to take for students in crisis.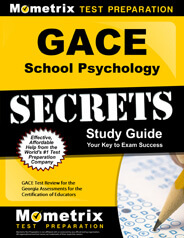 Prepare with our GACE School Psychology Study Guide and Practice Questions. Print or eBook. Guaranteed to raise your score. Get started today!
Because protecting the well being of such a large group of youth is such a massive responsibility, it may serve as no surprise that the Georgia state government requires incoming school psychologists to prove they've picked up all required capabilities from their training.
This is why the GACE School Psychology exam exists. By earning a passing score on this exam, you will prove you're qualified for your chosen career and can start working professionally.
Like the majority of GACE subject tests, the GACE School Psychology test features two parts: Tests I and II. Both of these sections contain 80 "selected-response" (multiple choice) questions each, which you will have two hours to complete.
As a whole, the test will last about four hours. Additionally, Tests I and II also focus on their own unique set of subjects, also known as "subareas."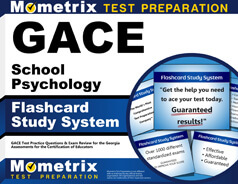 GACE School Psychology Flashcards. Proven GACE School Psychology test flashcards raise your score on the GACE School Psychology test. Guaranteed.
Test I deals with:
Legal, Ethical, and Professional Practice (20 percent)
School and Systems Organization, Policy, and Practices (20 percent)
Data-Based Decision Making and Accountability (60 percent)
Test II's subareas include:
Social and Academic Development and Interventions (66 percent)
Consultation and Collaboration (34 percent)
If you're on this page, you're likely in search of study tools to help you prepare for this important exam. You've come to the right place! Here you'll find the official Mometrix GACE School Psychology practice test.
This free study tool is designed to help you familiarize yourself with the actual test by presenting you with questions similar in format and subject matter to what you'll find on test day. Feel free to use it to get a sense of how the exam will work.
This practice test works well whether used standalone or alongside our corresponding GACE School Psychology study guide. We hope you will choose to incorporate it into your study plan. Good luck!