In today's society, global interactivity is rapidly spreading across the world, making bilingualism more important than ever. Children as young as preschool age are being exposed to bilingual education classes to keep up with the demand. However, for decades, youth have been encouraged to take classes in a second language just for the exposure and the chance to develop an extra skill. You likely took a language course yourself at some point during your academic career.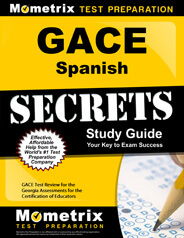 Prepare with our GACE Spanish Study Guide and Practice Questions. Print or eBook. Guaranteed to raise your score. Get started today!
Now that you're training to become a Spanish teacher, it will be your chance to pass on the same knowledge and experience to younger generations.
Before you can start getting hands-on in the classroom, however, you must prove to you're capable of the job.
To do this, you must earn a passing score on the GACE Spanish exam, which is exclusive to educators in Georgia.
This important final benchmark will assess your competency with Spanish and your understanding of classroom management and protocol.
The GACE Spanish test is a bit more complex than most other GACE tests. For starters, it features two distinct question formats: "selected-response," more generally known as multiple choice, and "constructed-response," which will require lengthier answers.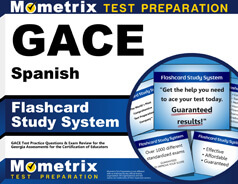 GACE Spanish Flashcards. Proven GACE Spanish test flashcards raise your score on the GACE Spanish test. Guaranteed.
The test also splits into two subtests. They are formally known as Tests I and II. Test I has another pair of constructed-response questions and 38 selected-response questions, while Test II features a pair of constructed-response questions and 36 selected-response questions.
You will have exactly one hour to complete Test II and one hour, 35 minutes to finish Test I. Overall, the test should take you a little over two and a half hours.
Each GACE Spanish subtest also covers its own unique set of "subareas."
Test I focuses on:
Linguistics, Comparisons, and Cultures/Cross-Disciplinary (20 percent)
Writing (40 percent). All constructed-response questions are featured under the "Writing" subarea.
Reading (40 percent)
For Test II, these subjects are:
Linguistics, Comparisons, and Cultures/Cross-Disciplinary (20 percent)
Speaking (40 percent)
Listening (40 percent)
The Speaking portion of the exam is composed entirely in constructed-response format. 
At Mometrix Test Preparation, we care about your success. That's why we strive to offer only the best study materials around.
On this page you'll find our GACE Spanish practice test, designed to give you an accurate preview of the exam's contents so you know what to expect. By using this free study tool, you can work out how to approach each question, as well as gain a sense of where your weaknesses and strengths lie with the material. Our practice test pairs well with our companion study guide. We hope these tools will become an effective component of your study plan.