It can easily be argued that innovation is becoming a much more highly valued skill in today's world than it has been in the past. With the emergence of so many new entrepreneurs and engineers taking technology to new heights, the industrialized parts of our society are gradually becoming obsolete. There's nothing else for current generations to do but try and keep up. This is why educators in the computer education, marketing, and business fields are so important. These three subjects are often closely intertwined, which is why they're bundled together by the state of Illinois.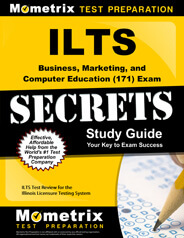 Prepare with our ILTS Business, Marketing, and Computer Education Study Guide and Practice Questions. Print or eBook. Guaranteed to raise your score. Get started today!
If you're an aspiring teacher of this subject in this state, you've likely endured complex training in order to make sure you're ready to thoroughly educate your students in this equally complex bundle of subjects.
However, before you can complete your training, you'll have one final task: passing the ILTS Business, Marketing, and Education exam.
The ILTS Business, Marketing, and Education test is timed, much like its sibling subject tests.
You will receive three hours and 45 minutes to answer 125 questions, all of them multiple choice ("selected-response").
Each question falls under a relevant "subarea" to the main subject. These subareas include: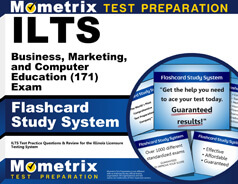 ILTS Business, Marketing, and Computer Education Flashcards. Proven ILTS test flashcards raise your score on the ILTS Business, Marketing, and Computer Education test. Guaranteed.
Computer Education
Accounting Principles and Practices
Business Communications and Computations
Economics, Consumer Economics, and Career Development
Entrepreneurship, Management, Law, and International Business
Marketing Principles and Applications
Because this test is so complex, you may want the most thorough study tools possible to help you prepare. That's why the Mometrix Test Preparation team would like to offer you our free ILTS Business, Marketing, and Education practice test.
We have designed this practice test to be as accurate to the real exam as possible, from its formatting to its contents. We encourage you to use our practice test to familiarize yourself with the exam. It is the best resource for learning what to expect on exam day.
We hope you will choose to incorporate our practice test into your study plan. Good luck!