In today's increasingly volatile political environment, people of all ages are experiencing uncertainty toward the future. Young people are especially vulnerable to these feelings, as it will someday be their responsibility to take charge of the issues left to them by those before them. As a prospective political science teacher, it will be your job to help today's youth understand how their government works, so they can in turn gain stronger comprehension of their impact on society, how things have become the way they are, and how they can enact the changes they'd like to see.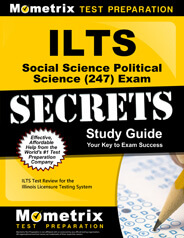 Prepare with our ILTS Social Science Political Science Study Guide and Practice Questions. Print or eBook. Guaranteed to raise your score. Get started today!
You've likely endured quite a bit of complex training to make it this far.
Now that you're nearing the end of your certification training, you'll have to prove you've learned enough to thrive in the educational environment and help your students as thoroughly as possible.
Your final hurdle comes in the form of the ILTS Social Science: Political Science exam.
The ILTS Social Science: Political Science test is fairly lengthy. You will be given three hours and 45 minutes to complete a total of 125 questions, all of them multiple choice.
Each of the test's questions adhere to one of four subjects: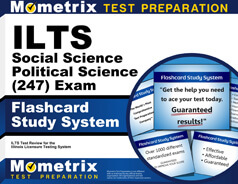 ILTS Social Science Political Science Flashcards. Proven ILTS Social Science Political Science test flashcards raise your score on the ILTS Social Science Political Science test. Guaranteed.
United States and Illinois Government
Social Science Foundations
Political Science Concepts and Thought, Comparative Government, and International Relations
History Common Core
Scoring well on this exam will require only the most comprehensive study tools. On this page, you'll find the official Mometrix ILTS Social Science: Political Science practice test. This study tool is 100 percent free and meant to serve as an accurate example of how the actual test will be presented.
We encourage you to use this practice test to learn how the real test will work, so you're less likely to run into any surprises on test day. You can also use this practice test to figure out which areas of the exam you may want to devote more attention to while you study. Good luck!