The Illinois Licensure Testing System (ILTS) General Middle Grades exam is given to individuals wanting to teach in the state of Illinois. It is one component in the testing process prospective teachers must go through to become licensed. The General Middle Grades exam tests your ability to effectively teach middle-grade students. ILTS also offers tests including the Test of Academic Proficiency (TAP) as well as the Assessment of Professional Teaching (APT) Grades Pre K-12.
How do I register for the ILTS exam?
You may register for the ILTS exam on the official Illinois Licensure Testing System website. You will need to create a username and password. From there you will be given further instructions.
When is the exam given?
The exam is given year-round Monday through Saturday by appointment only. You can take the exam at testing locations in Illinois and nationwide.
How much does it cost to take the ILTS exam?
The fee for the ILTS exam is $115 paid by Visa or Mastercard. Your registration is valid for one year. If you don't take your exam within this time, you will forfeit all fees paid.
How is the exam formatted?
The ILTS exam is computer-based and consists of 80 multiple-choice questions. You will be given 3 hours and 15 minutes to complete the exam. 15 minutes will be used for a computer-based tutorial, while 3 hours will be given for the actual exam.
What score do I need to get in order to pass?
In order to pass the ILTS exam, you will need to score a minimum of 240.
What will the exam test me on?
The ILTS exam tests your knowledge in three subareas:
Subarea I The Learner and Learning – this section tests your knowledge of understanding young adolescent development and behavior; understanding different learning processes, responsive learning environments, and diversity in middle grade students; you will also be required to understand research supported curriculum and instructional practices for middle-grade students; and understand research-supported assessment practices for middle grade students.
Subarea II Disciplinary Literacy in the Middle Grades – this section of the exam tests your knowledge in understanding disciplinary literacy foundations, curriculum, and materials; you will also need to have knowledge in understanding research-based instructional approaches that promote disciplinary reading comprehension skills, and writing comprehension skills on a middle-grade level; and skills in speaking, listening and vocabulary skills are also required.
Subarea III the Professional Level – this section requires you to understand middle school education philosophy and organization; and understand the professional roles and responsibilities of middle school teachers.
What will exam day be like?
On the day of the exam, be sure to arrive at least 15 minutes early. Arriving late for your exam may result in you not being allowed to take it. If you fail to show up for your scheduled exam, you will not be refunded your fee. You must have with you a valid photo identification upon arrival. Electronics and other personal belongings will not be allowed with you in the testing room.
What happens if I fail?
If you fail your exam, you may retake it. However, you must submit an updated application along with the necessary fee. Keep in mind that you will need to wait a minimum of 30-days before retaking the exam.
What if I am unable to take the exam?
If you are unable to take the exam and have not yet scheduled your exam appointment, you may withdrawal by submitting a withdrawal request through your online account. If you have scheduled your test appointment, you must cancel your test appointment a minimum of 24-hours before your scheduled exam. You can cancel through your online account. After canceling you must submit a withdrawal request, also through your portal.
Can I reschedule my exam?
Yes. If you need to reschedule your exam appointment, you can do so through your online account at least 24-hours before the scheduled exam time.
If I have a disability, will I be accommodated?
Reasonable accommodations are available to those with disabilities. You must submit an alternative testing arrangements request as well as documentation from a physician or other health provider. It is important to submit these documents as soon as possible because all documentation is reviewed on a case-by-case basis. You can submit your documents when applying for the exam. You will receive a notification of resolution email within 1 to 3 weeks.
How can I prepare for the exam?
Mometrix Test Preparation is a great study resource that provides both a detailed, yet easy to comprehend study guide and flashcards. Mometrix understands the benefit of only studying the most relevant information, rather than content that will most likely not even be on the exam. Mometrix prepares you to take and pass your exam with flying colors.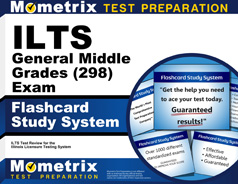 ILTS Flashcards. Proven ILTS test flashcards raise your score on the ILTS test. Guaranteed.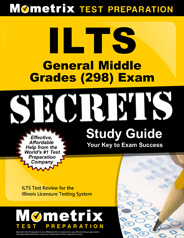 Prepare with our ILTS Study Guide and Practice Questions. Print or eBook. Guaranteed to raise your score. Get started today!