When it comes to a student's well being, mental health is just as important as physical health. However, mental health is frequently and unfortunately one of the most neglected aspects of student care. The good news is that this downward trend can change. With the expertise and intervention of qualified school psychologists, just like what you're training to become, students can receive more well-rounded care and live much healthier academic and personal lives.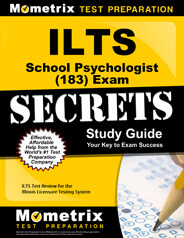 Prepare with our ILTS School Psychologist Study Guide and Practice Questions. Print or eBook. Guaranteed to raise your score. Get started today!
The key to providing better mental health care to students lies in aspiring school psychologists receiving the proper training before they embark upon their professional careers.
The state of Illinois requires all incoming school psychologists to prove their readiness by earning a passing score on the ILTS School Psychologist exam.
Like other ILTS exams, this particular subject test will assess your knowledge of teaching concepts, rather than just your field-related knowledge.
The ILTS School Psychologist test is fairly complex. You will be allotted approximately three hours and 45 minutes to answer 125 questions.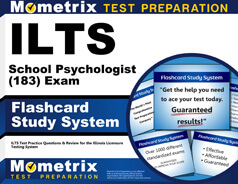 ILTS School Psychologist Flashcards. Proven ILTS School Psychologist test flashcards raise your score on the ILTS School Psychologist test. Guaranteed.
Every question on the exam is multiple choice, and falls under one of three subjects:
Schools, Systems, Research, and the Practice of School Psychology
Prevention, Intervention, and Collaboration to Support Students
Human Development, Diversity, and Learning
Due to the complexity of this exam, you'll want as thorough a set of study tools as possible. To help, the Mometrix Test Preparation team has composed an ILTS School Psychologist practice test, which you will find on this page.
This practice test is meant to serve as an accurate mirror to the actual ILTS test, allowing you to gain a glimpse of how the real exam will work and how it's questions will be presented to you. This study tool is ideal for those looking to familiarize themselves with the exam's contents as well as hone their study plan based on whichever areas of the exam they find themselves having trouble with.
We hope you will choose to incorporate our practice test into your study plan. Good luck!