Biology may be considered one of the "easiest" scientific disciplines, if only due to the lack of math involved. However, as a future biology teacher, you know this subject is just as complex as any other. On top of all of the effort you've put into learning the ins and outs of biology in and of itself, you've also had to undergo thorough training to learn how to best teach the subject to your potential students.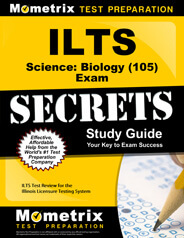 Prepare with our ILTS Science: Biology Study Guide and Practice Questions. Print or eBook. Guaranteed to raise your score. Get started today!
Now that you're almost done with your training, one final task lies ahead of you: the ILTS Science: Biology exam.
Designed for incoming biology teachers just like you, this exam is meant to gauge how much you've learned throughout your certification training, as well as whether you're truly ready to teach professionally.
The ILTS Science: Biology test is meant to take three hours and 45 minutes to complete.
You will be given a total of 125 questions. They will be multiple choice in format.
Each of these 125 questions falls under one of six relevant subjects, also known as "subareas." These subareas are: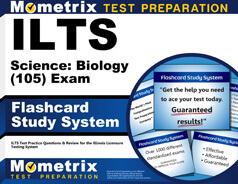 ILTS Science: Biology Flashcards. Proven ILTS Science: Biology test flashcards raise your score on the ILTS Science: Biology test. Guaranteed.
Organismal Biology and Ecology
Science and Technology
Cell Biology, Heredity, and Evolution
Life Science
Earth Systems and the Universe
Physical Science
Scoring well on this exam will require the best study tool available. The Mometrix Test Preparation team would like to present you with our ILTS Science: Biology practice test. This study tool is designed to give you an accurate example of the real ILTS test, and has been composed through the help of careful research and observation.
We have devoted countless hours to ensuring this practice test is as close to the real thing as possible in terms of format and content. We hope it will form an effective part of your study plan.
For best results, we recommend pairing our practice test with our ILTS Science: Biology study guide. Using these two tools simultaneously will help to make your study experience all the most thorough. Good luck, and work hard!