If you're on this page, you're likely coming to the end of your training to becoming a professional physics teacher. Congratulations on making it this far in fulfilling your goal! There's no doubt you've worked hard these last few years to learn everything you can so you can serve your future students to the best of your ability. However, before you can step foot in the classroom as professional, you must take care of one more thing.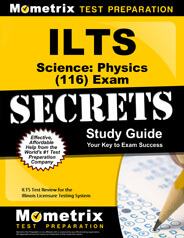 Prepare with our ILTS Science: Physics Study Guide and Practice Questions. Print or eBook. Guaranteed to raise your score. Get started today!
In the state of Illinois, all incoming teachers are required to take the ILTS, otherwise known as the Illinois Licensure Testing System.
The purpose of this exam is to present you with every concept you've learned throughout your certification training and assess your comprehension of them.
In doing so, it will also evaluate your readiness to teach professionally. In your case, you will have to take and pass the ILTS Science: Physics exam.
The ILTS Science: Physics test is three hours and 45 minutes in terms of its time limit. You will have to complete 125 questions within this amount of time.
All questions on this exam, much like the other ILTS exams, are multiple choice. They cover such relevant subjects as: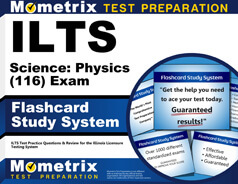 ILTS Science: Physics Flashcards. Proven ILTS Science: Physics test flashcards raise your score on the ILTS Science: Physics test. Guaranteed.
Heat, Electricity, Magnetism, and Modern Physics
Science and Technology
Physics Skills, Motion, Forces, and Waves
Life Science
Earth Systems and the Universe
Physical Science
The Mometrix Test Preparation team understands how important this test is to your future career goals. To help you prepare as thoroughly as possible, we have constructed an ILTS Science: Physics practice test, which you can find on this page.
This practice test is meant to help you familiarize yourself with the actual exam's contents, so you'll arrive at test day with a much better idea of what to expect.
We hope you will choose to incorporate our practice test into your study plan. It is 100 percent free for you to use as much as you need throughout your studies. Good luck, and word hard!