Students need strong reading, language arts, math, and writing skills to be successful in the classroom. That why teachers must take the Illinois Licensure Testing System (ILTS) Test of Academic Proficiency (400) exam. Those who pass the exam demonstrate the necessary knowledge to teach in Illinois classrooms. The multi-part test challenges candidates and this guide provides an overview of the exam. The guide also contains information on the best study materials you can buy.
What's the test's format?
The exam contains four subtests. Three of the subtests — Reading Comprehension, Language Arts, and Mathematics — all contain multiple-choice questions. The constructed-response writing portion of the test is the final subtest.
How many questions are on the subtests?
Reading Comprehension, and Language Arts, each has 60 multiple-choice questions. Math has 50 multiple-choice questions, and Writing has one constructed-response question.
Do I have to take all four subtests in one day?
No. Candidates can one subtest at a time.
Great. How much time do I have to complete the ILTS Test of Academic Proficiency (400) exam?
If taken individually, candidates have 2 hours and 30 minutes to complete each subtest. Any candidate who elects to complete all four subtests in a single sitting has five hours to finish the exam.
What's the exam's passing grade?
Candidates must attain a minimum passing score of 240 on each subtest.
Are any reference materials available during this exam?
Yes. During the Math portion of the test, candidates will have access to an on-screen formulas page.
What's the exam fee?
Each subtest costs $68. Candidates who take all four subtests in a single sitting pay a $113 fee.
When will I receive my ILTS Test of Academic Proficiency (400) test score?
Preliminary scores for the multiple-choice portions of the exam will be available as soon as the test is over. The score for the writing portion will be available within two to four weeks.
Where can I take the ILTS Test of Academic Proficiency (400) exam?
Candidates take the exam at any number of privately-run testing centers across Illinois and the country. You can do an online search for the centers that are most convenient for you.
When can I take the exam?
The test centers give the exam Monday through Saturday, year-round, except for certain holidays.
What's on the test?
There are four subtests:
Reading Comprehension includes words, phrases, and their meaning; analyzing written material for main ideas and supporting details; and analyzing written material.
Language Arts includes understanding and recognizing verbs, pronouns, and modifiers; punctuation and capitalization; writing organization; and editing and revision to improve clarity and focus.
Mathematics includes problem-solving involving integers, fractions, ratios and proportions; drawing conclusions using inductive and deductive reasoning; and problem-solving involving lines and angles, and perimeter, area, and other two- and three-dimensional geometric figures.
Writing is the constructed response portion of the subtest. Candidates must read a passage and write a response. Candidates will be evaluated for focus, support and elaboration, organization, and grammar and conventions.
It's test day. What time should I arrive at the test center?
Make sure to arrive prior to your test time. It takes about 15-minutes to go through pre-test preparation. Anyone who arrives more than 15 minutes late may not be allowed to take the test.
Will I need to show identification when I arrive?
Yes. Please show one piece of valid government-issued ID with a photo and signature, like a driver's license, passport, or military ID.
What do I do with my mobile phone? Can I bring it into the test room?
No. Candidates are not allowed to bring personal items into the test room. All electronic devices, books, pens, and hats are among the items banned from the test room. Candidates must store their personal items at the test center or in their car. The test center rules contain a full list of prohibited items.
I need to prepare for this exam. What are the best study tools I can buy?
Mometrix has the best study materials on the market because they've been written by professionals in the test-taking field. Our study guide will show you how to breeze through easy questions so you can spend more times on tough ones. The guide also contains practice questions and practical advice on avoiding test anxiety. Our flashcards cover all the major content areas of the test, and it's easy for friends and family to help you study since the cards are portable. If you're taking the ILTS Test of Academic Proficiency (400) exam, these are the materials you need to help you prepare.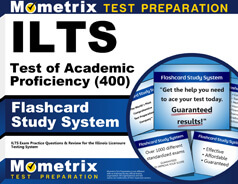 ILTS Test of Academic Proficiency Flashcards. Proven ILTS test flashcards raise your score on the ILTS Test of Academic Proficiency test. Guaranteed.

Prepare with our ILTS Test of Academic Proficiency Study Guide and Practice Questions. Print or eBook. Guaranteed to raise your score. Get started today!