The AEPA (Arizona Educator Proficiency Assessments) has designed the Special Education: Early Childhood exam specifically to measure a candidate's command of the education standards established by the state of Arizona for young children with special learning needs. You will need to take and pass this exam as part of the qualification process to become certified in the field of special education.
How Much Does the AEPA Special Education: Early Childhood Exam Cost?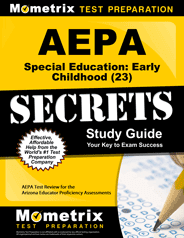 Prepare with our AEPA Special Education: Early Childhood Study Guide and Practice Questions. Print or eBook. Guaranteed to raise your score. Get started today!
The initial registration is $120. This includes the $85 exam fee itself as well as a $35 processing fee. You need to successfully pay this fee in full at the time of registration in order to ensure that your testing appointment is reserved for you.
If you're not sure when you will be taking the test, you can still register and pay the fee in advance. Your payment and registration will be valid for a full year from the date of issue. So you have time to figure out exactly which test day works best for you.
Which Subjects Are Covered on the Exam?
There will be a total of 100 scored questions on this test. All of them are multiple choice, and all of them will fall into one of the three content areas. Take a look at the quick outline of the exam below to get a better sense of what you'll be expected to know on test day:
Understanding Young Children with Special Needs — about 27 questions

Typical human growth and development
Developmental significance of various disabilities
Learning processes
Significance of disabilities for learning
Assessment procedures
Physical management, medical aspects, and implications of disabilities

Promoting Young Children's Growth and Development — about 59 questions

Creating safe, stimulating, and developmentally appropriate learning environments
Individual and group management strategies to enhance learning
Establishing a positive and supportive classroom setting
Promote self-regulation and autonomy
Promote social development
Promote physical and cognitive development

Working in a Collaborative Learning Community — about 14 questions

Establish partnerships with other school professionals and members of the community
Foster strong home-school partnerships
Encourage school-community interactions that enhance learning and development
Teaching responsibilities, requirements, and constraints for children with disabilities
History and philosophy of early childhood special education
What Score Do I Need to Pass the AEPA Special Education Early Childhood Exam?
You will be given a final scaled score ranging from 100 to 300. In order to pass, you need to score at least
In the score report that you receive approximately one to four weeks after completing the test, you'll get a detailed breakdown of how you did on each section of the exam.
This breakdown will be particularly useful if you did not pass on your first attempt. You'll be able to see exactly which areas you need to focus on as you study and prepare for your second attempt. If you do need to retake the exam, your next appointment must be at least 30 days from your previous attempt, and you will need to pay the full exam fee and processing fee over again. So you're better off just giving yourself extra time to prepare ahead of your first attempt so that you only need to take it once!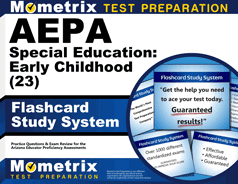 AEPA Special Education: Early Childhood Flashcards. Proven AEPA Special Education: Early Childhood test flashcards raise your score on the test. Guaranteed.
How Should I Prepare for the Test?
This is a content driven exam designed to measure a very specific set of skills and understanding so your preparation should really focus on reviewing the exact material that this test is focused on while also working essential test-taking skills like time management, recall speed, memory, and strategies for finding the answer to questions that might have tricky or unclear wording.
The good news is that you can do all of that with the Mometrix Study Guide and Mometrix Flashcards. The guide is packed with test-taking tips and strategies developed by experts. Of course, it also comes with a chapter by chapter breakdown of the Arizona state standards for early childhood special education. This means you'll be able to get a full review of everything that you're going to be tested on while also developing your fool-proof plan for acing the test!
The flashcards will help round out your study sessions by offering a more engaging and interactive way to study the material. Not only will they help you remember more of what you need to know but they're a great way to work on your recall speed. Giving yourself timed quizzes with the cards will improve both your speed and accuracy, two skills you will absolutely need on test day! Between the two, you'll be able to use your study time in the most effective way possible to ensure you're ready to do your best on that exam and in your career.