If you can identify syncopation, describe what Vaganova is, and recognize patterns and combinations for international folk and social dance, you may be ready for the Arizona Educator Proficiency Assessments Dance Test. Passing the AEPA Dance Exam, AZ048, is required by the Arizona State Board of Education for those interested in teaching Dance in Arizona.
A passing score on the AEPA Dance Exam is 240, and testers are given a two hours and thirty minutes to answer 100 multiple-choice questions. Tests are available year-round, and results are sent out 1-4 weeks from the test date to the e-mail provided upon registering for the AEPA Dance Test.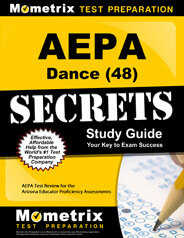 Prepare with our AEPA Dance Study Guide and Practice Questions. Print or eBook. Guaranteed to raise your score. Get started today!
The AEPA Dance Exam is comprised of four sections that test proficiency. The Dance Elements, Concepts, and Skills subarea of the AEPA Dance Test counts for 36% of the score. In this section you will show understanding of basic dance movements, fundamental ballet skills, modern dance concepts, jazz and tap dance positions and patterns, characteristics of international folk and social dance, and health benefits of dance.
Both Creating and Analyzing Dance subarea as well as the Dance Education subarea count for 23% of the score. In the Creating and Analyzing Dance section, testers will show understanding of choreographic processes and forms, how dance is used to communicate meaning, and the application of creative thinking skills in dance.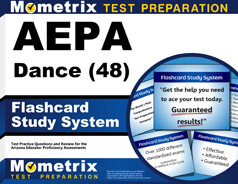 AEPA Dance Flashcards. Proven AEPA Dance test flashcards raise your score on the AEPA Dance test. Guaranteed.
For the Dance Education section, questions will cover philosophical foundations of dance, planning and managing the teaching of dance within a school, strategies required of professional dance educators, and how to integrate dance into other disciplines.
Finally, The History and Roles of Dance subarea of the AEPA Dance Exam counts for 18%. This section will include questions about the development of dance, the relationship between dance and culture, and how dance relates to other art forms. With a little bit of effort toward the AEPA Dance Practice Test, it won't be long before you are dancing on your way to being an AEPA certified Dance educator.