CPIM Master Planning Exam – Certified in Production and Inventory Management "Master Planning of Resources" Exam: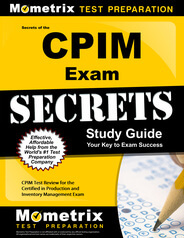 Prepare with our CPIM Study Guide and Practice Questions. Print or eBook. Guaranteed to raise your score. Get started today!
The CPIM Master Planning of Resources exam is the second of five exams created by the Association for Operations Management, also known as APICS, that are administered by Promissor and are required in order for an individual to receive a Certification in Production and Inventory Management.
This certification can be extremely useful as a resume-builder for individuals in the manufacturing and warehousing industries, but in order to receive the certification, the individual must pass all five CPIM exams.
This exam consists of 75 questions, 60 of which are scored and 15 that are not scored, related to demand management, priority planning, capacity planning, managing master production schedules, sales and operations planning, and measuring business performance.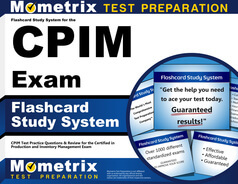 CPIM Flashcards. Proven CPIM test flashcards raise your score on the CPIM test. Guaranteed.
The exam-taker has three hours to complete the exam and there are no official breaks scheduled during that period. The exam is scored based on a scale of 265 to 330 with 300 as the minimum score necessary to pass the exam.
To register for the exam, you must contact APICS to get a customer number and register online or by phone with APICS or Promissor to schedule a testing date.
The registration fee for the exam is $110 for APICS members and $145.00 for nonmembers.
CPIM Exams
Practice Questions
1. The feasibility of a master planning schedule may be tested:
a. By calculating ATP
b. By the process of trial and error
c. By the process of RCCP
d. The cumulative with look-ahead method
2. The practice of comparing graphic or tabular representations of manufacturing capacity with available hours for manufacture is called:
a. ATP
b. MRP
c. RCCP
d. CRP
3. When a material planning supervisor speaks of maintaining the validity of the material plan, it means that:
a. The initial recommendations for scheduling production must be adhered to
b. Orders are replanned as necessary in response to external changes
c. Production schedules must be approved by shop floor persons
d. Only accurate materials planning schedules must be used
4. A measure of the available quantities of finished product that can be used to fill current customer orders is termed:
a. ATP
b. RCCP
c. MPS
d. MRP
5. In order to sustain an efficient system of MRP through IT software, it is recommended that data integrity be maintained at a %age-rate minimum of:
a. 99%
b. 89%
c. 79%
d. 100%
Answer Key
---
1. C: Answer option "c" is the correct answer. The means for testing the feasibility of a master planning schedule is found in RCCP, or rough-cut capacity planning. RCCP operates much like an early warning system and is helpful in preventing bottlenecks from developing. The RCCP method is useful in quantifying and gauging the size of problems likely to arise from customer demand, productive capacity, and inventory planning. The data obtained from RCCP can flow to all work centers, includ.ng those involved in supply and production, and make it easier to match productive capacity to the master planning schedule.
2. D: The correct answer is "d," capacity requirements planning. CRP retrieves the order data from MRP. Using graphic or table representations of capacity and comparing those with hours available for manufacture gives a more precise account of material and capacity requirements needed to meet customer orders to the required specifications. In the CRP process, each manufacturing step is isolated, with the total number of operations at each work station multiplied by average run times.
3. B: The best answer is "b" (although it would be nice if "only accurate materials planning schedules" could be used… The demand and production environment is always changing, and a good materials planning operation should permit of the flexibility necessary to accommodate change. A properly detailed materials planning process also includes replanning alternatives and alternate scheduling. Maintaining the validity of a material plan involves setting priorities, the use of modeling and what-if scenarios, and replanning to fit the changing environment.
4. A: ATP means available-to-promise, and is a measure of the amount of finished product that can be used to meet existing customer demand. In order to be counted as ATP, finished products must be available for delivery within the customer's specified delivery date. ATP is usually incorporated into information technology software and is usually based upon push or pull production models. MPS refers to the master production schedule; MRP means materials requirements planning; RCCP refers to rough-cut capacity planning.
5. A: The correct answer is "a." The entire purpose of materials requirements planning is to maintain lean manufacturing through lean inventories and delivery of materials to the right place at the right time. Most MRP software aims for 99% accuracy in the bill of materials, inventory data, and the master production scheduling. Common errors in inputting data to MRP software systems is inaccuracy in calculating lead times, particularly in failing to recognize outside factors that can skew results-such as other products being made within the same factory.