The Ophthalmology Written Qualifying Examination, which is designed by the American Board of Ophthalmology (ABO) and administered by the American College Testing Program (ACT), is a certification test that is used to determine if an individual possesses the skills and knowledge necessary to provide effective eye care.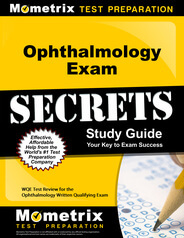 Prepare with our Ophthalmology Study Guide Print or eBook. Guaranteed to raise your score.
This exam assesses the individual's knowledge of optics, the physiology of the eye, disorders and conditions of the eye, ophthalmic pathology, plastic surgery, pediatric ophthalmology, and other similar topics related to practicing ophthalmology.
This exam is required in order to become an ABO certified ophthalmologist. However, it is important to note that the ABO certification is not usually required in order to work as an ophthalmologist.
Instead, the ABO certification acts as an extremely effective resume-builder for individuals that have already completed an accredited ophthalmology program.
The exam consists of 250 multiple-choice questions that relate to the following topics: 
The exam-taker will have approximately five hours to complete the exam, which includes time allotted for a tutorial and several optional breaks. The exam-taker will receive a pass/fail grade based on whether or not he or she makes enough correct responses to meet or exceed the threshold set by the ABO. If the exam-taker passes the Written Qualifying Exam, he or she will be eligible to take the Ophthalmology Oral Exam, which is required in order to become certified.
In order to register for the Ophthalmology Written Qualifying Exam, the individual interested in pursuing certification must have graduated from an allopathic or osteopathic medical program, must complete a 1 year internship in an ophthalmology training program accredited by the Accreditation Council for Graduate Medical Education, and must have completed at least a 3 year ophthalmology residency training program accredited by the Accreditation Council for Graduate Medical Education.
If the individual meets all of these requirements, has a current license to practice medicine, and agrees to the ophthalmology pledge, he or she may register for the exam by completing the application form on the ABO website and mailing in the supporting documents that are required.
The current registration fee for the Written Qualifying Exam is $1650, but there are other fees and examinations that are required in addition to this exam in order to become certified.