The Special Purpose Examination (commonly known as the SPEX exam) is a general test of medical knowledge. It is most often used to evaluate already-licensed professionals or individuals who are applying to be re-licensed after not practicing for a time.
There are two different content areas on the SPEX exam: Clinical Encounter Categories and Physician Tasks.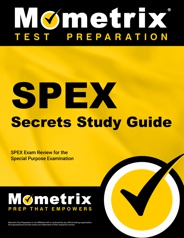 Prepare with our SPEX Study Guide and Practice Questions. Print or eBook. Guaranteed to raise your score. Get started today!
The Clinical Encounter Categories include:
Well-care/Preventive Medicine
Acute, Circumscribed Problems
Ill-defined Presentations or Problems
Chronic or Progressive Illness
Emergency Conditions
Critical Care
Behavioral/Emotional Problems
The Physician Tasks include
Data Gathering
Diagnostic Assessment
Managing Therapy
Applying Scientific Concepts
There are four kinds of multiple-choice questions on the SPEX exam: single-item sets (five answer choices, only one best answer); multiple-item sets (several questions based on the same set of information); matching items (in which treatment options and conditions must be paired); and extended matching sets (a situation is presented and you have to choose the best diagnosis, though some wrong answers may be partially correct).
The SPEX exam is divided into eight blocks of 50 questions, each of which takes 52 minutes. The exam is administered by computer in a single day at the test site. The SPEX is a timed test with the test taker being aided by an on-screen prompt displaying a box indicating the amount of time remaining. Before the SPEX exam begins, you will be given a brief tutorial on the testing program procedures. Even those inexperienced in the use of computers should have little trouble navigating the SPEX program.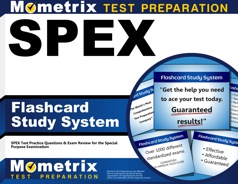 SPEX Flashcards. Proven SPEX test flashcards raise your score on the SPEX test. Guaranteed.
SPEX Study Guide
Explore our free SPEX review provided by Mometrix. Check out our premium SPEX study guide to take your studying to the next level. If you benefit from these materials, just click the link below! To compliment our SPEX book, we also offer extensive SPEX flashcards for even more SPEX test prep help.
We hope you enjoy our products! Your purchase helps us make more great, free SPEX certification content for test-takers just like yourself.