The TExES Bilingual Education Supplemental test for candidates who wish to become certified as bilingual teachers or demonstrate their qualifications to teach a bilingual curriculum. The test is designed according to Texas standards of bilingual education.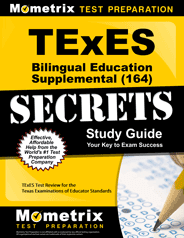 Who Is Eligible to Take the TExES Bilingual Education Supplemental Test?
There are a variety of paths to eligibility for this exam, but whichever path you take, you must provide the appropriate documentation and evidence in your application and then wait for your approval to test before you register for a specific exam date.
Candidates eligible to take the test include:
Current students of an Educator Preparation Program (EPP)
Holders of a current, equivalent certification from another state or country
Certified Texas teachers seeking additional or supplemental certification
Charter school teachers
Individuals seeking to take the test prior to enrolling in an EPP or similar program and wishing to demonstrate proficiency in
How Should I Prepare for Test Day?
It's important to come to the testing center fully prepared for the long, intensive testing you have ahead of you. The test itself lasts up to 4 hours and 45 minutes. If your location has lockers, bring a small snack for a quick energy boost if you start to lose steam during the exam. If there are no lockers provided, just be sure to eat a nutritious breakfast very high in protein. Protein rich foods will keep you energized longer than sugary foods.
Beyond food, you also need to make sure you are well rested. Get to bed early enough that you can get a full night's rest and still wake up early enough to get to your exam on time. Plan to arrive at least 30 minutes early so that you can get through the check-in process and still have a bit of time to relax and get yourself in test-taking mode.
What Will the TExES Bilingual Education Supplemental Test Cover?
You will need to answer at least 80 multiple choice questions. The actual number will probably be slightly higher because they usually throw in a few unscored questions that they're considering for future versions of the exam. However, only 80 of the questions you answer count toward your final score.
All the questions, both score and unscored, measure your command of the following:
Foundations of bilingual education
Concepts of bilingualism and biculturalism
Creating an effective learning environment for a bilingual program
Process of first and second language acquisition and development

Promote language proficiency in both first and second languages
Strong linguistic command of both languages

Development and assessment of biliteracy

Development of biliteracy in students
Assessment of literacy in each of the target languages
Assessment of biliteracy

Content area knowledge in both the first and second language

Create authentic and appropriate learning activities in each of the languages to promote academic proficiency in the content
Develop appropriate assessment methods in each of the languages to measure student's command of the content area and the 
When Will I Find Out If I Passed?
You'll be able to see your score immediately after the exam, but you'll need to wait about one week before your official scores are reported. In order to pass, you need to get a score of at least 240.
Your results will be automatically made available to TEA (Texas Education Agency) and SBEC (State Board for Educator Certification) at the same time that your score report is released to you. Therefore, you do not need to send your score report. It's just for your own reference. With that said, just because TEA and SBEC have your scores doesn't mean the certification process automatically continues. You will still need to submit your application and follow all of the certification instructions.
How Much Time Should I Spend Studying for this Test?
The exact amount of time will depend on your specific needs. If you're comfortable taking exams and feel confident in your command of the material, you can probably get away with just a week or two of review and practice. If, on the other hand, you generally get stressed out during tests or your knowledge of the material feels a bit shaky, you might want to spend anywhere from 3 to 6 weeks studying.
Either way, you will definitely want to use the best study tools available. The Mometrix Study Guide and Mometrix Flashcards. These two study aids will provide you with a complete overview of Bilingual Education standards, theories, and practices as they apply to Texas curriculum and guidelines. On top of that, you'll get plenty of extra help with planning out your study sessions, developing tricks to handle the tougher questions on the exam, and generally making sure that you've got everything you need to perform your very best!