The Medical College Admission Exam (MCAT) is widely considered to be one of the most difficult academic tests in existence. It is the official test a person must pass in order to be admitted to a school of medicine in the United States. Some medical colleges in Canada also use the exam.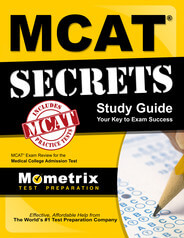 Prepare with our MCAT Study Guide and Practice Questions. Print or eBook. Guaranteed to raise your score. Get started today!
Developed and overseen by the Association of American Medical Colleges, it is given approximately 14 times per year at Prometric Testing Centers, which are located in cities all across America. The MCAT has been in use for over 75 years, and every year over 70,000 people take the exam, even though there are only about 20,000 openings for new medical students each year in America.
The MCAT has recently undergone some significant changes. For one thing, it now takes nearly eight hours to complete the exam (the old one took around five hours).
Second, the essay, or Writing Sample, has been completely scrapped; medical education experts said it was no longer very useful at predicting success in medical school.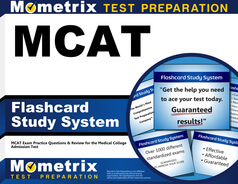 MCAT Flashcards. Proven MCAT test flashcards raise your score on the MCAT test. Guaranteed.
Third, an entirely new section has been added, in order to find out which test takers have the aptitudes and understanding needed to deliver medical services across many cultures and sociological groups.
This section was added because, due to the rapid and massive demographic changes taking place in America, becoming an MD these days requires skills that physicians of former generations never needed. Lastly, the old MCAT was offered 25 times a year, but the new MCAT is only offered 14 times a year.
There are four sections on the exam:
Critical Analysis and Reasoning Skills (53 questions/90 minute time limit)
Biological and Biochemical Foundations of Living Systems (59 questions/95 minute time limit)
Chemical and Physical Foundations of Biological Systems (59 questions/95 minute time limit)
the new section, Psychological, Social, and Biological Foundations of Behavior (59 questions/95 minute time limit)
All questions are multiple-choice. The MCAT is not an adaptive test, which means that a student can't shorten the length of the test by answering harder questions correctly. Each section is scored separately, and these scores are combined to create a total score Section scores range from 118 to 132, and total scores range from 472 to 528.
Most students take the MCAT in their junior or senior year of college. It's important to take it in time to have the scores available when one begins applying to medical schools, but it's also important not to take the test before one is ready, as a low score will be a serious handicap when it comes to winning admission to medical school.
Because the number of medical school openings every year is very limited, and is dwarfed by the number of people wanting to enroll, the admissions process is very selective. At elite medical schools, the process is extremely selective, and only those students with both MCAT scores and grade point averages in the highest echelons have a chance of being admitted.
Competition is fierce, and it gets tougher every year. There may be some relief in sight, as there is talk of several more medical schools opening in the not too distant future. If that actually comes to pass, getting into medical school might become a little less difficult. Even then, though, it won't be easy, and the best way of maximizing one's chances will still be to earn a high score on the MCAT.
MCAT Study Guide
Explore our free MCAT review provided by Mometrix. Check out our premium MCAT study guide to take your studying to the next level. If you benefit from these materials, just click the link below! To compliment our MCAT book, we also offer extensive MCAT flashcards for even more MCAT test prep help. We hope you enjoy our products! Your purchase helps us make more great, free MCAT certification content for test-takers just like yourself.
Self-Assessment Modules