If you want to be an educator in California, you'll need to pass a credentialing exam that shows you have the skills and knowledge to teach grades K-12. The California Preliminary Administrative Credential Examination (CPAC) Content Test (Test code 603) is just one of those exams.
As with any credentialing test, the CPAC exam is tough. That's why candidates should know as much as they can about the test and obtain first-class study tools. You'll find plenty of helpful information here.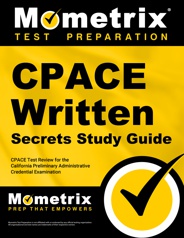 Prepare with our CPACE Study Guide and Practice Questions. Print or eBook. Guaranteed to raise your score. Get started today!
How many questions are on the CPACE content test?
The CPACE Content test contains 70 multiple-choice and three constructed-response questions. The multiple-choice questions assess knowledge of school leadership and, when it comes to educational administration, the ability to apply knowledge or conduct tasks.
The written portion of the test, called the "constructed-response questions," candidates musts analyze an issue related to a school.
Candidates have 3 hours and 15 minutes to complete the exam. Candidates must score at least 220 to pass the exam, and candidates will receive their score within five weeks of taking the test.
When and where can candidates take the test?
There are three, two-week testing windows available to candidates. California uses a test service to administer the exam. The test service has test centers throughout the state.
What's the fee to take the test?
It costs $294 to take the CPACE content test.
What's on the CPACE content test?
Visionary Leadership has four areas
How to develop and articulate a vision of teaching and learning
How to develop a shared commitment to the vision with members of the school community
How to lead by example to promote the vision's implementation
The ability to share leadership within the school community
Instructional Leadership also has four areas
Student academic content standards
Using feedback to evaluate and analyze the effectiveness of classroom instruction for promoting student learning and the professional growth of the teacher
Understanding school community demographics and using the knowledge to complete teaching and learning
Communicating with the school community (students, parents, teachers, etc.) about the school's improvement goals
School Improvement Leadership tests knowledge in four areas
Works to identify student and school needs
The ability to implement change strategies
How to use resources to implement a school growth plan
Using a collaborative process to monitor the school growth plan
Professional Learning and Growth Leadership contains three knowledge-based areas
Self-improvement and professional learning
Professional growth activities
Identifies professional growth activities by involving members of the school community
Organizational and Systems Leadership tests three areas
Understands priority setting and organizational complexity
Understands how to develop, implement, and monitor a school budget
Understands various laws (federal, state and local), rules and regulations related to public schools.
Community Leadership tests two areas
Effectively serves as a spokesperson and advocate for the school system
Involves the community to help achieve the vision and goals of the school
What are the test center policies?
Make sure to arrive before your test time. Candidates who arrive more than 15 minutes late may not be allowed to take the exam.
You must bring an unexpired, valid piece of government-issued identification that contains your photograph and signature. Candidates who do not have a valid form of ID will not be allowed to take the exam.
Candidates taking a computer-based test will receive a pen and erasable paper. Otherwise, candidates cannot bring any personal items into the testing room. Those items include all electronics (mobile phones, tablets, etc.), communications or recording devices, bags, packages and the like. Candidates must store all personal items in a locker at the test center.
Can I retake the CPACE contest exam if I fail?
Yes. Candidates must wait at least 45 days from their test date before retaking the exam, and they may retake it as often as they need.
What test preparation materials will best help me prepare for this exam?
Mometrix has a terrific array of study materials. Our study guide includes practice test questions that will help make sure you're ready for the CPACE content test. The guide will show you how to avoid common mistakes, deconstruct complex issues, the best way to pick the right answers, and much, much more. Our easy-to-understand flashcard system covers all the major content areas of the exam and makes it easy to study on the go.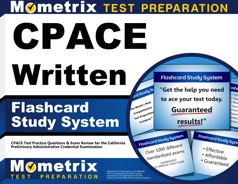 CPACE Flashcards. Proven CPACE test flashcards raise your score on the CPACE test. Guaranteed.