The Minnesota Teacher Licensure Examinations (MTLE) are created by Pearson Education and are the exams needed to become credentialed as a teacher in the state. Like most states, Minnesota requires the passing of specific tests for particular licenses. The MTLE are the only recognized tests used to grant an initial teaching license in the state of Minnesota.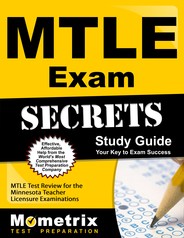 Prepare with our MTLE Study Guide and Practice Questions. Print or eBook. Guaranteed to raise your score. Get started today!
Each exam is comprised of multiple subtests, which are relevant and pertinent to each section of the exam. For example, the Basic Skills exam has three subtests for reading, writing, and math. The subtests may be taken all at the same time or individually. The Basic Skills exam is multiple choice and computer based, including the written portion of the test.
The amount of time allotted for the reading section is one hour to complete forty-eight questions, one hour and forty-five minutes for the writing section (thirty-three multiple-choice questions and two writing assignments), and one hour and fifteen minutes for fifty math multiple-choice questions.
For the Basic Skills exam, there is a $25 fee for each subtest and an annual registration fee regardless of the number of tests taken. The cost of a subtest, format of questions, and amount of time allotted may vary. Financial assistance vouchers may be provided to a college student or candidate who has failed a subtest five or more times.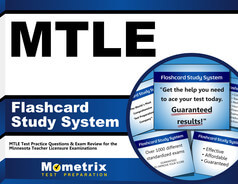 MTLE Flashcards. Proven MTLE test flashcards raise your score on the MTLE test. Guaranteed.
A request for a voucher should be requested prior to reregistering for an exam. The MTLE are composed of a basic skills assessment, birth through secondary pedagogy tests, and content area tests for grades kindergarten through twelve. Content-area tests are exams pertaining to main subjects, such as business, chemistry, life science, health, math, language, reading, social studies, music, technology, and so on.
Testing assignments are on a first-come, first-served basis and are offered at sites in North American including Puerto Rico, the Virgin Islands, and Canada. A candidate is required to read and abide by all testing rules and policies. A window of specific monthly test dates is set, with score report dates approximately three weeks later.
There is plenty of preparation material available to help study for the MTLE. The MTLE Web site provides test content and sample questions, preparation worksheets, videos, and tutorials. It provides general test-taking strategies such as understanding the structure and content of tests, reading test objectives, developing a study plan, study approaches, strategies on test day, and what to do after the test.
Self-Assesment Modules