The Orthopaedic Technologist Surgery Certification (OT-SC) Exam is a certification examination written and administered by the National Board for Certification of Orthopaedic Technologists that is designed to determine whether or not an individual possesses the knowledge and skills necessary to aid surgeons in orthopaedic surgical procedures.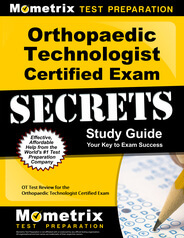 Prepare with our OT-SC Exam Study Guide and Practice Questions. Print or eBook. Guaranteed to raise your score. Get started today!
This exam assesses the individual's knowledge of pre-operation procedures, surgical procedures, sterilization and infection prevention procedures, postoperative care, and legal and ethical concerns.
This exam is required in order to receive the NBCOT OT-SC certification.
However, an individual may not need the NBCOT OT-SC certification if he or she has a similar certification from another certifying authority, equivalent training, or equivalent experience depending on the specific position that the individual is pursuing.
The exam consists of 150 multiple-choice questions that relate to the following topics: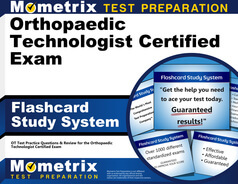 OT-SC Exam Flashcards. Proven flashcards raise test scores on the OT-SC exam. Guaranteed.
Preoperative Procedures(17 questions)
Intraoperative Procedures (78 questions)
Postoperative Procedures (38 questions)
Legal and Ethical Concerns (17 questions)
The exam-taker will have 3 hours to complete the exam and the exam-taker will receive a pass/fail grade based on whether or not he or she makes a number of correct responses that equals or exceeds the threshold set by the NBCOT. Currently, the threshold set by the NBCOT requires that the exam-taker answer 108 questions correctly in order to successfully pass the exam.
In order to register for the exam, the individual interested in pursuing certification must be currently certified as an Orthopaedic Technologist or currently certified as an Orthopaedic Physician Assistant and have at least one year of experience assisting in a surgical orthopaedic setting. If the individual meets one of the certification requirements and the experience requirement, he or she may register for the exam by submitting a written application to the NBCOT. The current registration fee for the exam is $375.