The FTCE Subject #54 practice test—also known as the FTCE Agriculture 6-12 practice test—is just one of 41 total practice tests modeled after the FTCE Subject Area Examinations. Like its real life counterpart, this particular FTCE subject practice test gears toward aspiring Floridian Agriculture teachers.
As everyone familiar with the subject knows, Agriculture is far more complex than tending to plants and animals. It is a science with a large number of subtopics involved, all of which are included on the full Agriculture 6-12 exam. Said subjects include: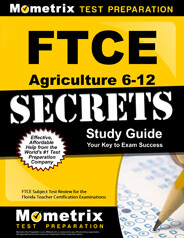 Prepare with our FTCE Agriculture 6-12 Study Guide and Practice Questions. Print or eBook. Guaranteed to raise your score. Get started today!
Natural Resources
Leadership
Environmental Sciences
Career Opportunities
 Agricultural System Technology
Employability Skills,
Plant Science
Soil Science
Animal Science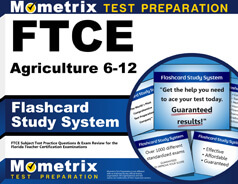 FTCE Agriculture 6-12 Flashcards. Proven FTCE Agriculture 6-12 test flashcards raise your score on the FTCE Agriculture 6-12 test. Guaranteed.
All FTCE subject practice questions will involve these subjects.
We understand you have to be familiar with these all of these subjects in order to prove your competency as an Agriculture 6-12 teacher. This is why we've mirrored our practice exam as closely after the full FTCE Agriculture 6-12 exam as possible, as well as tailored it so it's usable in conjunction with the Mometrix Agriculture 6-12 study guide.