Any aspiring Floridian Chemistry 6-12 teacher has to not only undergo rigorous training, but take and earn a passing score on the FTCE—a standardized test used as a means of measuring an incoming teacher's competency and preparedness for the educational field.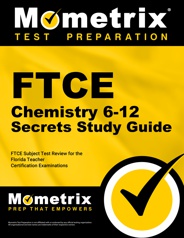 Prepare with our FTCE Chemistry 6-12 Study Guide and Practice Questions. Print or eBook. Guaranteed to raise your score. Get started today!
Our team at Mometrix Test Preparation fully understands the importance of this exam, which is why we've released our FTCE Subject #3 practice test.
The FTCE subject practice questions for the Chemistry exam cover the full gamut of subjects you can expect to find on the real thing, including:
Our FTCE Subject practice test is 100 percent free and fully designed to help you study to your fullest extent before test day arrives. We hope that, in conjunction with the accompanying Chemistry 6-12 study guide, you'll be able to prepare thoroughly for the FTCE and earn a great score.