Just a few decades ago, everything was done using a pencil and paper. There was little focus on technology. Those times have changed dramatically. Today, virtually everyone uses computers on a daily basis. Even toddlers are using computers to help prepare them for school and future careers.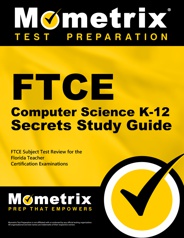 Prepare with our FTCE Computer Science K-12 Study Guide and Practice Questions. Print or eBook. Guaranteed to raise your score. Get started today!
In order to encourage growth and prepare students for a technology-immersed world, Florida needs teachers who are up to the task. That's why aspiring educators of all grade levels must take and pass the FTCE Computer Science K–12 test before they can teach.
You are given two hours and 30 minutes to complete the FTCE Computer Science K–12 exam. There are 120 questions, all which are multiple choice. The test fee is $150 and you must score 200 or above in order to pass. Once you take the test, you will receive your results in four weeks.
The test consists of seven core competencies that you must know in order to pass. The majority of the test focuses on programming languages and logic (40% total). You will also be tested on your knowledge of areas such as computation thinking and problem solving, data types and structures, computer hardware and software, social issues related to computer technologies and computer science pedagogy.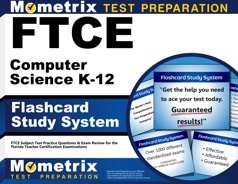 FTCE Computer Science K-12 Flashcards. Proven FTCE Computer Science K-12 test flashcards raise your score on the FTCE Computer Science K-12 test. Guaranteed.
Within these areas, you will be assessed on your knowledge of various subjects, including the software development life cycle, data structures, error types, program documentation, algorithms, Java, Scratch, hardware, data storage, networks, use of intellectual property, security, classroom management, assessment strategies and instructional technologies.
Simply knowing how to operate a computer isn't enough. There is so much for Florida computer teachers to know that studying can be quite difficult. Don't let the thought of studying stress you out. Start by practicing. Studying will be a breeze once you take theFTCE Computer Science K–12 practice test. You'll learn more about the specific concepts you'll need to study so you can score well on the real test.