We live on an amazing planet called Earth. Earth is made up of many layers, as well as numerous types of rocks. It also has interesting landforms, oceans and other forms of topography. It's important for junior high and high school students to be aware of Earth, space and everything else around them.
That's where you come in. If you are looking to teach science to students in grades 6–12, the state of Florida requires that you first pass the FTCE Earth/Space Science 6–12 test.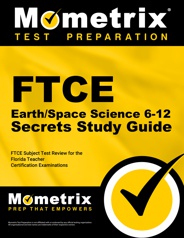 Prepare with our FTCE Earth/Space Science 6-12 Study Guide and Practice Questions. Print or eBook. Guaranteed to raise your score. Get started today!
The FTCE Earth/Space Science 6–12 exam consists of 120 questions that you answer on the computer. You are given 2.5 hours to complete these multiple choice questions. If this is your first time, the test fee is $150. You must score 200 or higher to pass. If you don't pass or wish to retake the test to get a higher score, the fee rises to $150.
You will be tested on 12 competencies, which can seem daunting. Each competency makes up only 4–9% of the test, except for nature of science, which makes up 16%. The other 11 competencies you will need to know are composition and structure of Earth, plate tectonics, Earth's surface processes, mapping and remote sensing, scope and measurement of geologic time, characteristics and management of Earth's resources, oceans and coastal processes, atmospheric conditions and weather, climate patterns, astronomical objects and processes, and space exploration.
Under each competency is a wide range of information you should know in order to pass the exam. Be prepared to be tested on scientific inquiry, science equipment, physical and chemical properties of rocks and minerals, the rock cycle, theories of plate tectonics, geological processes, volcanoes, earthquakes, seismic waves, rock formations, sedimentation, geological features of Florida, map interpretation, absolute and relative dating, major events in Earth's history, fossils, renewable and non-renewable resources, energy production, coastal structures, seawater, and atmosphere composition and structure.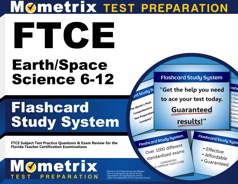 FTCE Earth/Space Science 6-12 Flashcards. Proven FTCE Earth/Space Science 6-12 test flashcards raise your score on the FTCE Earth/Space Science 6-12 test. Guaranteed.
Other topics include Florida weather systems, climate changes and patterns, the solar system, evolution of the universe, cycles of the Earth-Moon-Sun system, astronomical instruments, space exploration events, and Florida's space program.
Your success on test day depends on how well you study. Want to know how well you'll do on the exam? Start off by taking the FTCE Earth/Space Science 6–12 practice test. This free study resource will help you narrow down the information you absolutely need to know so you can study more efficiently. After all, why study things that won't be on the test. Use the practice test to your advantage and you'll be showing off your high score when the results are in.