Many junior high schools and high schools offer electives in the home economics realm. These classes help students prepare for life after high school, when they will likely be living away from their parents. Whether they live on their own or get married and have a family, they will need to have certain skills so they can budget money, take care of children, deal with stress, buy a house, prepare nutritious food and so much more.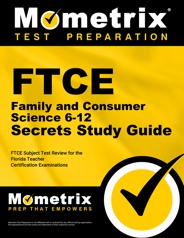 Prepare with our FTCE Family and Consumer Science 6-12 Study Guide and Practice Questions. Print or eBook. Guaranteed to raise your score. Get started today!
Educators looking to teach these kinds of classes to Florida students in grades 6–12 must take and pass the FTCE Family and Consumer Science 6–12 exam.
You are allowed two hours and 30 minutes to take the FTCE Family and Consumer Science 6–12 test. During this time, you must complete 120 multiple-choice questions. You can find out right away if you've passed, but to see your official score, you must wait four weeks.
The area of family and consumer science is quite broad, and as such, teachers will need to have knowledge of 21 competencies. Each one comprises 2–8% of the total test questions. The largest portion of the test will assess your knowledge of families, nutrition and wellness.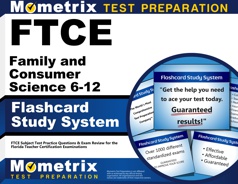 FTCE Family and Consumer Science 6-12 Flashcards. Proven FTCE test flashcards raise your score on the FTCE Family and Consumer Science 6-12 test. Guaranteed.
You will also be tested on your knowledge of personality development, decision making, marriage, preparation for parenthood, parenting, prenatal care and childbirth, various types of development, stress, clothing selection, textiles and technology, the United States economic system, money and resource management, consumerism, housing selection, home design, nutrition and wellness, meal planning, food selection and storage, food preparation and careers.
The questions will focus on topics such as household units, family life cycle, caring for the elderly, individual growth and development, self-esteem, sexuality, decision making, conflict resolution, communication skills, marital relationships, divorce, remarriage, male and female reproductive systems, family planning, birth control, infertility, pregnancy, fetal development, childbirth methods, birth defects, postnatal care, development of infants and toddlers, parenting styles, parent-child relationships, substance abuse, domestic violence and stress management.
You will also be tested on your knowledge of clothing selection, textiles, economics, taxation, budgeting, insurance coverage, credit, shopping, consumer information, renting and buying houses, home design, diet, exercise, addictive behaviors, food choices, government grades, food quality, food preparation and storage, and knowledge of the home economics profession.
Prepare for this exam by taking the FTCE Family and Consumer Science 6–12 practice test. Instead of studying without any knowledge of the test, you can take the practice test and get a feel for what you can expect on test day. It's 100% free, so it doesn't hurt to try. In fact, chances are it'll help you tremendously and instill a sense of confidence when it's time to take the real test.