Every child needs a listening ear and helping hand as they navigate life. As a guidance counselor, it will be your job to fulfill that role for hundreds of children every year. To become a guidance counselor in Florida, however, you have to earn a passing score on the FTCE (Florida Teacher Certification Examinations) alongside the Guidance and Counseling PK-12 subtest.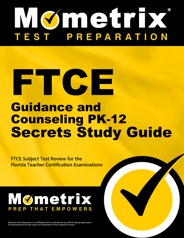 Prepare with our FTCE Guidance and Counseling PK-12 Study Guide and Practice Questions. Print or eBook. Guaranteed to raise your score. Get started today!
Our team at Mometrix Test Preparation fully understands the importance of this test to you and your career goals. To help you prepare to the fullest extent, we want to offer you our FTCE Subject #18 practice test. 100 percent free and available at the click of a mouse, this FTCE subject practice test covers such topics as:
We have carefully researched and observed the full FTCE test so as to render our FTCE subject practice questions as accurate as possible. Feel free to incorporate this resource (and the Mometrix Guidance and Counseling PK-12 study guide) into your study plan!