In today's sedentary society, it seems there's no other subject more important to instill in children's lives than health. This is why aspiring and active Health K-12 teachers are so vital to schools all across Florida and the rest of the United States.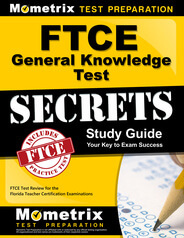 Prepare with our FTCE Study Guide and Practice Questions. Print or eBook. Guaranteed to raise your score. Get started today!
If you're teaching Health K-12 in Florida, however, you'll have one additional hurdle to clear before you can move into professional work: the Florida Teacher Certification Examinations, also known as the FTCE. Alongside the full test comes a subtest catered specifically to the Health K-12 field and what teachers of this specialty will have to know.
We've conducted careful research so our FTCE subject practice questions are as accurate to the real FTCE as possible. Our FTCE subject #19 practice test will cover the following topics:
Unintentional Injury and Safety Practices
Foundation, Theories, and Principles of Health Education
Environmental Health
Health Education Standards
Community Health
Instructional Practices
Consumer Health Practices and Media Literacy
Personal Health Behaviors and Wellness
Violence Prevention and Intervention


FTCE Flashcards. Proven FTCE test flashcards raise your score on the FTCE test. Guaranteed.

Human Anatomy and Physiology
Substance Use and Abuse
Pathology and Disease Prevention
Mental and Emotional Health
Interpersonal Health
Nutrition and Physical Fitness
Sexual Health
As always, this resource is always available at absolutely no cost to you. We care about your success and want to offer you only the best resources so you can study as thoroughly as possible. Feel free to use this FTCE subject practice test in conjunction with the Mometrix FTCE Health K-12 study guide.

Click Here for FTCE Practice Test