As humans, we experience our culture through various means, including language, religion, art, history, music, literature and philosophy. It's important that students begin to understand and learn more about our culture at an early so they can broaden their horizons and develop a deeper understanding of who they are and the place they have in society. This is done through humanities classes. Aspiring Florida teachers must pass the FTCE Humanities K–12 exam in order to teach in a classroom setting.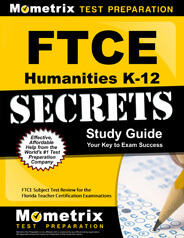 Prepare with our FTCE Humanities K-12 Study Guide and Practice Questions. Print or eBook. Guaranteed to raise your score. Get started today!
The FTCE Humanities K–12 test is a computer-based exam that requires you to answer 120 multiple-choice questions within the time limit of two hours and 30 minutes. In order to pass, you must obtain a score of 200 or higher.
You will be tested on six competencies: humanities vocabulary and concepts, historical periods and movements, relationship between arts and ideas, how cultures express themselves, prominent aesthetic principles, and instructional techniques and resources.
The majority of the test will focus on knowledge of historical periods, styles and movements as well as the relationship between a culture's beliefs and values and their expression in the humanities.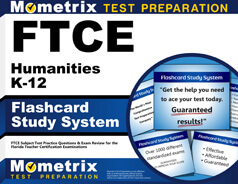 FTCE Humanities K-12 Flashcards. Proven FTCE Humanities K-12 test flashcards raise your score on the FTCE Humanities K-12 test. Guaranteed.
You will be tasked with knowing various concepts within these subareas, such as Western culture, genres of arts and media, major works of art, the influence of geography on the arts, influences on the arts, philosophical and religious influences, aesthetics, teaching methods and assessment strategies.
The humanities span a variety of topics, which can make it difficult to study efficiently. Which topics should you focus on, and which ones can you forego studying? Get a firm grasp of the areas of focus that will appear on the exam by taking the FTCE Humanities K–12 practice test.
This study tool makes it easy to learn everything you need to know in order to succeed. Try it now and get great results the first time around.