Marketing is an important subject that constantly pervades our society on multiple levels. In order to teach this subject, you'll have to be well-versed in every aspect of the field. As such, anyone teaching Marketing 6-12, especially in Florida, will be expected to take and earn a passing score on the FTCE, otherwise known as the Florida Teacher Certification Examinations. In addition, aspiring marketing instructors will also have to take the Marketing 6-12 subtest.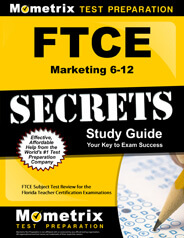 Prepare with our FTCE Marketing 6-12 Study Guide and Practice Questions. Print or eBook. Guaranteed to raise your score. Get started today!
The good news is you don't have to fret over how to study. To help you prepare as thoroughly as possible, we'd like to present you with our FTCE Subject #57 practice test. This test has been written with the help of careful research of the real FTCE's formatting and presentation.
FTCE subject practice questions will cover the following Marketing 6-12 topics:
Like the rest of our FTCE subject practice test collection, this Marketing 6-12 mock exam is 100 percent free. For optimal studying, we encourage you to pair this resource with the Mometrix FTCE Marketing 6-12 study guide. Good luck!