Despite its reliance on flow, melody, and harmony, Music K-12 in itself can be a complicated subject to teach due to the technical aspects involved. If you're working toward teaching Music K-12, you have a lot of coursework ahead of you before you can step foot in the professional world.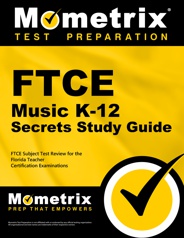 Prepare with our FTCE Music K-12 Study Guide and Practice Questions. Print or eBook. Guaranteed to raise your score. Get started today!
Aspiring Florida-based Music K-12 teachers also have one more task to accomplish before moving on, and that is scoring well on the FTCE and its accompanying Music K-12 subtest.
To help you, we've written an FTCE Subject #28 practice test, which is modeled after the real FTCE. From this FTCE subject practice test, you can expect to gain a full glimpse of the real exam.
For this particular subtest, FTCE subject practice questions will involve such topics as:
We understand just how important this exam is to your future. This is why we strive to offer you only the best resources, so you can study as thoroughly as possible. Feel free to use this FTCE subject practice test in conjunction with the Mometrix FTCE Music K-12 study guide.