Teachers have a tough job, but fortunately they have some help in the school. School psychologists work as part of team to help students learn and help teachers teach. They are specialists in behavior, mental health and learning. When teachers are having trouble with students, school psychologists can often step in and apply various methods to help students succeed. Those looking to become a psychologist in a Florida school must take and pass the FTCE School Psychologist PK–12 exam.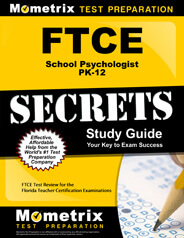 Prepare with our FTCE School Psychologist PK-12 Study Guide and Practice Questions. Print or eBook. Guaranteed to raise your score. Get started today!
The FTCE School Psychologist PK–12 test is composed of 120 multiple-choice questions. You will be given two hours and 30 minutes to answer them. You must score 200 or higher to pass. Although official score reports arrive in four weeks, you can see if you passed or not immediately following the test.
The exam consists of 10 competencies. Fifteen percent of the test focuses on your knowledge of evidence-based interventions. The other competencies include research and statistics, data-based decision making and accountability, child development, Section 504 of the Rehabilitation Act of 1973, curricula and instruction, bases of learning and behavior, laws and court decisions, consultation and problem solving, and professional school psychology and ethical decision making.

FTCE School Psychologist PK-12 Flashcards. Proven FTCE School Psychologist PK-12 test flashcards raise your score on the FTCE School Psychologist PK-12 test. Guaranteed.
Within these competencies are various skills and concepts that you must know. These include research design, theories of test construction, data gathering methods, progress monitoring, evaluation methods, data interpretation, cognitive and intellectual development, personality, developmental patterns, characteristics of disabilities and exceptionalities, instructional strategies, intervention methods, substance abuse, factors that influence learning and behavior and neurological functions of the brain.
You will also be assessed on legislation related to school psychology, individual and group counseling, prevention activities, applied behavior analysis, threat and suicide assessment, crisis intervention, collaboration, public school structures, professional standards of practice, and professional and ethical conduct.
Psychology involves various mental, emotional and physical processes. When test day rolls around, make sure you are poised for success by taking the FTCE School Psychologist PK–12 practice test. This handy tool is a great way do a practice run of the test so you can see how well you'll do on the real thing. Use the results to improve your score and fell less stressed.