It's a well-known fact that business is a complex, multifaceted discipline. If this is the major you've chosen to pursue in college, you know you have an intensive course load ahead of you, which is why you may not want to waste time taking any courses you either don't want to take or don't feel you need. Information Systems, a class commonly offered to first-year business majors, may be such course. Maybe you took those course at a different school already, or are just already knowledgeable in everything the class has to offer.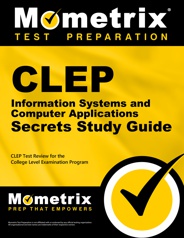 CLEP Study Guide Prepare with our CLEP Study Guide and Practice Questions. Print or eBook. Guaranteed to raise your score. Get started today!
The good news is, regardless of your reasoning, you have the ability to get out of taking this class. All it takes is earning a passing score on the CLEP Information Systems exam. Designed to assess your comprehension of your subject(s) of choice, this exam is the only way you can obtain the college credits you need toward your degree without actually taking the full-fledged course.
Just like the degree program it falls under, Information Systems is a fairly complex subject. You'll have to prepare thoroughly if you want to score well on this exam. Our team at Mometrix Test Preparation cares about your success, which is why we have created and published a CLEP Information Systems practice test. We have conducted only the most attentive research to ensure this resource is as accurate to the full CLEP Information Systems exam as possible. With this free study tool, you can familiarize yourself with the real exam in time for exam day.
On the test you'll find 100 CLEP Information Systems questions dealing with these subjects: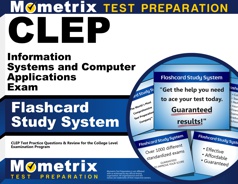 CLEP Flashcards CLEP Flashcards. Proven CLEP test flashcards raise your score on the CLEP test. Guaranteed.
Social and Ethical Implications and Issues (25 percent)
Office Applications (10 percent)
Programming Concepts and Data Management (10 percent)
Internet and World Wide Web (15 percent)
Software Development (10 percent)
Hardware and Systems Technology (15 percent)
Technology Applications (15 percent)
We hope you will be able to incorporate this resource into your study plan. For best results, we encourage you to pair our practice test with our companion CLEP Information Systems study guide.
Additional Free CLEP Practice Tests