As it turns out, while college is a wholly different experience from any other academic environment, it still shares a few similarities with high school. One of the biggest is the course load placed upon you, especially during your first year in school. Many colleges have a set of required courses students must take as part of their general education requirements. Without taking this assortment of courses, students cannot graduate.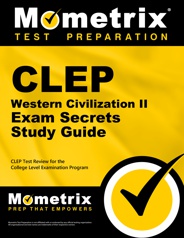 CLEP Study Guide Prepare with our CLEP Study Guide and Practice Questions. Print or eBook. Guaranteed to raise your score. Get started today!
However, for any number of reasons, you may not want to take certain first-year courses. Take Western Civilization II: 1648 to the Present, for instance. You may be a budding history major and feel you're already knowledgeable enough about this subject.
Alternatively, you could be majoring in something else and simply not want to devote a time slot to this particular course when you could be studying something more relevant to your interests. Regardless of your reasoning, know you have options at your disposal to help avoid taking this class.
Your main option comes from the College Board in the form of the CLEP Western Civilization II: 1648 to the Present exam. The CLEP is designed to help you earn the credits you need toward graduation without taking one or several first-year college courses of your choosing.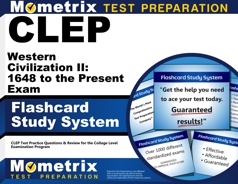 CLEP Flashcards CLEP Flashcards. Proven CLEP test flashcards raise your score on the CLEP test. Guaranteed.
Because Western Civilization is actually a two-part course, the material is fairly extensive. In order to do well, you'll want to study as thoroughly as possible. Our team at Mometrix Test Preparation is here to help with our CLEP Western Civilization II: 1648 to the Present practice test. Created with accuracy in mind, this practice test will help you to familiarize yourself with the test's contents and format.
Our practice test is composed of 120 multiple choice CLEP Western Civilization II: 1648 to the Present practice questions, which adhere to the following subjects:
Absolutism and Constitutionalism, 1648–1715 (7 to 9 percent)
Competition for Empire and Economic Expansion (4 to 6 percent)
The Scientific View of the World (5 to 7 percent)
Economy, Culture, and Imperialism, 1850-1914 (7 to 9 percent)
Period of Enlightenment (7 to 9 percent)
Politics and Diplomacy in the Age of Nationalism, 1850-1914 (8 to 10 percent)
Revolution and Napoleonic Europe (10 to 13 percent)
Political and Cultural Developments, 1815-1848 (6 to 8 percent)
The First World War and the Russian Revolution (10 to 12 percent)
The Second World War and Contemporary Europe (8 to 10 percent)
Europe Between the Wars (7 to 9 percent)
The Industrial Revolution (7 to 9 percent)
This resource pairs well with our companion CLEP Western Civilization II: 1648 to the Present study guide.
Additional Free CLEP Practice Tests