The Pediatric Nurse is a specialized Registered Nurse who provides care to pediatric patients. This includes performing nursing assessments, medication and treatment interventions, and education of the patient and the family.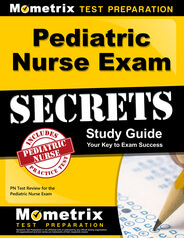 Prepare with our CPN Exam Study Guide and Practice Questions. Print or eBook. Guaranteed to raise your score. Get started today!
In order to take the Certified Pediatric Nurse Exam, the applicant must be a licensed Registered Nurse.
The Certified Pediatric Nurse Exam is offered throughout the year at various testing sites in the United States.
Once the application for the CPN exam is received and processed, the RN will receive a testing admission ticket in the mail. There is a 90-day window in which the CPN exam must be taken.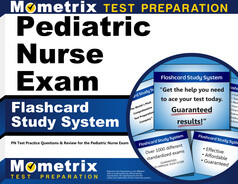 CPN Exam Flashcards. Proven flashcards raise test scores on the CPN exam. Guaranteed.
The CPN exam consists of 175 multiple-choice questions and 3 hours is allotted to complete the CPN exam.
Approximately one-quarter of the exam tests the RN's knowledge of child development, including developmental milestones.
Another one-quarter of the CPN exam contains questions regarding specific pathologic illnesses that can affect the pediatric population.
The remainder of the CPN exam is made up of questions pertaining to psychosocial issues, health promotion, and family education.