A Pediatric Hematology Oncology Nurse (CPHON® ) is an advanced nursing practitioner who participates in the care of children and adolescents with blood disorders and cancer. This specialty is concerned with all aspects of the child's assessment, treatment and care.
Credentialing Organization
Oncology Nursing Certification Corporation is the credentialing organization.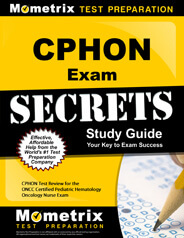 Prepare with our CPHON Study Guide and Practice Questions. Print or eBook. Guaranteed to raise your score. Get started today!
You will be required to take an examination, the fee for which will depend on whether you are a member of the Oncology Nursing Society (ONS) or the Association of Pediatric Hematology/Oncology Nurses (APHON). There are discounts available for applicants age 65 and over.
Your nursing license number and expiration date as well as information about past nursing experience will be required when applying.
Upon passing the examination, you will be given the following credential: Certified Pediatric Hematology Oncology Nurse (CPHON).
The certification is valid for a limited number of years and then must be renewed.
Eligibility
Before being certified as a pediatric hematology oncology nurse, you'll need:
A year or more experience as a registered nurse (RN). This experience must have taken place during the three year period prior to applying for the exam.
One thousand hours or more as a nurse working in pediatric oncology or hematology. This experience should fall within the 30 month period prior to applying for the exam.
Ten contract hours of continuing education in either oncology or oncology nursing at an accredited institution. These hours should fall within the three years prior to applying for the exam.
About the Certification Exam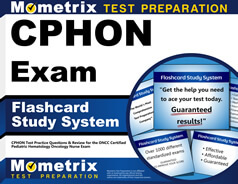 CPHON Flashcards. Proven CPHON test flashcards raise your score on the CPHON test. Guaranteed.
The exam consists of 165 questions, divided into nine subject areas representing knowledge essential to advanced practice as a nurse. Of these questions, 125 count toward the final score. (The remainder are questions being statistically tested for inclusion in future exams.)
The questions on the test are based on the CPHON Test Blueprint, which was derived from a role delineation study of pediatric nurses, based on current roles and behaviors of nurses in the pediatric oncology field.
The questions are divided into nine areas:
Psychosocial Dimensions of Care (10 percent)
Disease-Related Biology (10 percent)
Treatment (23 percent)
Supportive Care and Symptom Management (22 percent)
Pediatric Oncology and Hematologic Emergencies (13 percent)
Long-Term Follow-Up and Survivorship (8 percent)
Health Maintenance (2 percent)
End of Life Care (6 percent)
Professional Performance (6 percent)
CPHON Study Guide
Explore our free CPHON review provided by Mometrix. Check out our premium CPHON study guide to take your studying to the next level. If you benefit from these materials, just click the link below! To compliment our CPHON book, we also offer extensive CPHON flashcards for even more CPHON test prep help.
We hope you enjoy our products! Your purchase helps us make more great, free CPHON certification content for test-takers just like yourself.
ONCC® is a registered trademark, and CPHON® is a registered certification mark, of Oncology Nursing Certification Corporation. Oncology Nursing Certification Corporation does not endorse, authorize, sponsor, or approve any of the materials offered on this webpage, and has no affiliation with Mometrix.