Citizenship education is becoming more important than ever in our changing world—which is why we need competent teachers to guide today's students. Most teachers hoping to educate in this subject throughout the United States will have to prove they're capable of the job. This is the purpose of the Praxis Citizenship Education exam: to evaluate your knowledge of your field and future profession.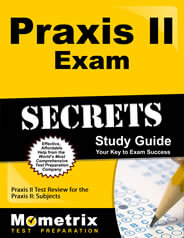 Prepare with our Praxis Study Guide and Practice Questions. Print or eBook. Guaranteed to raise your score. Get started today!
To help you prepare, the Mometrix Test Preparation team has composed a Praxis Citizenship Education (5087) practice test. We have designed this free study tool to closely reflect what you'll find on the real exam, thus allowing you to know what to expect and how to approach test questions.
If you're looking to gain familiarity with the test's contents in time for test day, this is the ideal resource for you.
The main exam contains a total of 120 Praxis Citizenship Education questions, all of which pertain to such relevant subjects as:
We hope this Praxis Citizenship Education practice test will help you prepare for this important exam to your fullest ability.
For extra help, feel free to consult our corresponding Praxis Citizenship Education study guide.