The Praxis Elementary Education Content Knowledge exam is used as part of the accreditation process for becoming a teacher. It covers the four core subjects fundamental to every child's education. Most candidates take this test shortly before or after completing their undergraduate education.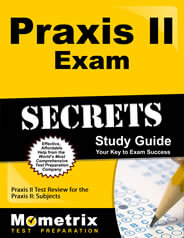 Prepare with our Praxis Study Guide and Practice Questions. Print or eBook. Guaranteed to raise your score. Get started today!
When Should I Register for the Exam?
The test is offered during eight testing windows throughout the year. Each testing window is roughly two weeks. While there is no deadline to register for a particular testing window, seats are given on a first come, first serve basis so it's advisable to register at least 6-8 weeks in advance.
Registering this far in advance has the added advantage of leaving you with enough time to review all the subjects for the exam and make sure you are completely prepared come test day.
You also need to make any arrangements for special accommodations you might need due to disability at the time of registration. If you wait until the day of the test, the testing center may not be able to provide the accommodations you need. However, if you make the arrangements in advance, they will be more than happy to ensure you have everything you need to succeed on this exam.
Which Subjects Are Included on the Exam?
There are 140 scored questions on this exam and they will be divided across the four core subjects that make up an elementary education. Take a look at the brief outline of each subject covered below: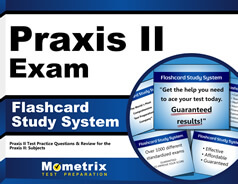 Praxis Flashcards. Proven Praxis test flashcards raise your score on the Praxis test. Guaranteed.
Reading and Language Arts – 49 scored questions

Foundational reading skills
Literature
Informational texts
Writing
English language
Speaking and listening

Math – 41 scored questions

Numbers and operations
Algebraic thinking
Geometry and measurement
Data, statistics, and probability

Social Studies – 25 scored questions

Geography
Anthropology
Sociology
World History
US History
Government, citizenship, and democracy
Economics
Inquiry and processes of social studies

Science – 25 scored questions

Earth and space science
Life sciences
Physical sciences
Technology and society
Processes of inquiry in science
In addition to the scored questions in each section, you will also likely see some unscored questions which are being considered for use in future versions of the test. However, unscored questions are not identified in anyway.
What that means for you is you should treat every single question you encounter as if it counts toward your score. At the same time, it means you should not panic or stress yourself out if a question felt really confusing or tricky because maybe it wasn't.
What Is Considered a Passing Score on This Test?
The test is used nationwide but there is no federally established minimum, so each state sets their own standards. Because of this, you will need to check with the licensing board in the state where you intend to work to find out what your target score needs to be.
Fortunately, your results are transferable so as long as your score meets the minimum of the state you move to, you won't need to retake the exam just because you've moved to a different state. By that same token, if you aren't yet sure where you will be teaching, just find out which of the states you're considering has the highest minimum and make that your target. That way, you can ensure that you won't need to retake the test no matter where you end up.
How Should I Prepare for the Praxis Elementary Education Content Knowledge Exam?
The purpose of this exam is to make sure that you have the full range of content knowledge you will need to effectively provide a foundational education for your elementary students. That means you need to make sure you are equally strong across all four subjects.
Since it's unlikely a single candidate is equally strong in such a diverse set of subjects, you definitely need to make a study plan that is custom tailored to your strengths and weaknesses. Spend more of your time and energy on your weaker subjects but make sure to devote some time to reviewing and refreshing your stronger subjects as well.
To help you achieve all of that, use the Mometrix Study Guide and Mometrix Flashcards. These study aids provide a comprehensive overview of all four subjects which has been carefully put together by a team of experts to the exact specifications of this exam. That means you'll have everything you need to ensure that you not only hone your skills in all the subjects but do so specifically to this exam.