Despite spanning only a short couple of years, pre-kindergarten is one of the most important periods of a child's academic career. This is where they begin to receive the foundations of their education.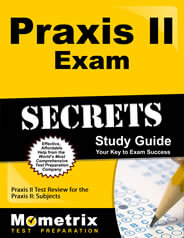 Prepare with our Praxis Study Guide and Practice Questions. Print or eBook. Guaranteed to raise your score. Get started today!
As such, it is important that children in pre-kindergarten classes have competent teachers to help them learn and grow. All incoming pre-kindergarten teachers throughout the United States are required to earn a passing score on the Praxis Pre-Kindergarten exam to prove they're ready for the classroom environment.
Are you still looking for the right tools to help you study for this important exam? The Mometrix Test Preparation team would like to offer you our Praxis Pre-Kindergarten Education (5531) practice test. Created with accuracy and thoroughness in mind, this resource is formatted so that it closely resembles the full Praxis exam for your subject.
You'll find a total of 100 Praxis Pre-Kindergarten questions on the exam, focusing on the following subjects: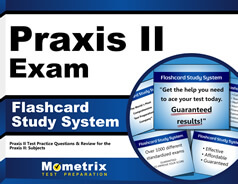 Praxis Flashcards. Proven Praxis test flashcards raise your score on the Praxis test. Guaranteed.
Professionalism, Family, and Community (24 percent)
Early Childhood Development (17 percent)
Teaching and Learning (25 percent)
Creating a Developmentally Appropriate Learning Environment (20 percent)
Teaching and Supporting Diverse Children (14 percent)
We encourage you to incorporate this 100 percent free Praxis Pre-Kindergarten Education practice test (and our companion study guide) into your study plan. Good luck!