Those interested in entering the nursing profession and becoming a registered nurse will have several tests and certifications they need to take.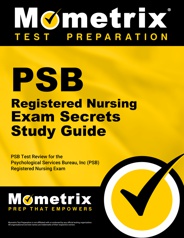 Prepare with our PSB-RN Study Guide and Practice Questions. Print or eBook. Guaranteed to raise your score. Get started today!
The Psychological Service Bureau (PSB) Registered Nursing School Aptitude Examination is one of them.
Nursing schools use the test to help assess whether candidates are ready for nursing school instruction.
It's one of many tools an educational institution uses to determine which candidates it accepts into its nursing program.
Here's some more detail on the exam, and at the end of this guide, you'll also find two study tools that can help you prepare for this challenging exam.
What's on the PSB Registered Nursing School Aptitude Examination?
The exam has five tests, and one of those tests contains three subtests.
I. Academic Aptitude tests how candidates think and learn. This test contains the three subtests — verbal, arithmetic and nonverbal. Each subtest contains 30 questions.
In the aptitude segment, your test questions could include identifying a word that is most different from others, or doing simple arithmetic problems like subtraction, multiplication and division.
II. Spelling tests how well candidates spell and how well they know the rules of grammar. You may, for example, be given a series of words and asked to identify which word is spelled correctly or is used in the proper grammatical context. There are 50 questions in this section.
III. Reading Comprehension tests whether you understand what you read. You'll be asked to read a paragraph and then answer questions based on the readings. There are 40 questions in this section.
IV: Information in the Natural Sciences contains 90 questions. It measures knowledge in the natural science area, including chemistry. Candidates could be asked to correctly identify the freezing point of water, understand liquid measurements, and know about important achievements in science history.
V: Vocational Adjustment Index attempts to determine how candidates feel about themselves. Candidates will be asked whether they agree or disagree with certain statements. There are 90 such statements.
There are 360 questions on the test, which takes 105 minutes. There is a fee for the exam, but it varies, depending on the nursing school. Schools may also have additional academic requirements.
How are test scores calculated?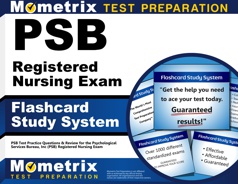 PSB-RN Flashcards. Proven PSB-RN test flashcards raise your score on the PSB-RN test. Guaranteed.
Test scores are calculated in two ways — a raw score and percentile rank. The raw score is the number of correctly answered questions in each part of the test. For example, answering 80 of the 90 questions in the Information and National Sciences section equals a raw score of 80.
The raw score is then translated into a percentile rank which ranks candidates against all others who have taken the exam. For example, a percentile rank of 70 would mean a candidate performed better than 70 percent of those who take the test but not as well as 30 percent of those in this specific comparison group.
The test will also provide verbal ratings that will range from "very low" to "superior."
The results from all sections of the test will provide an assessment of each candidate's strengths and weaknesses.
Where will I take the test? How much does it cost?
That will be determined by each individual school so check with your college counseling office. Your school can also provide information about test specifics, such as fees and items that are in the testing room.
This is a big step in your quest to become a registered nurse. To get there, you're going to need an excellent set of study tools to prepare for this difficult exam. Mometrix has an outstanding study guide and flashcards that have each been written by top professionals in the test-taking field. Our study guide helps candidates understand the parts of the PSB Nursing School Aptitude Examination that give test-takers the most trouble. Our study guide includes video tutorials that helps reinforce various concepts. Our flashcards are another added layer of learning, providing a way to study whenever you have time.
Make sure you're prepared to take this test by getting the outstanding study guide with video tutorials and flashcards we have to offer.