Becoming a registered nurse isn't the end a health practitioner's career. There are several nurse specialist careers that require additional certification. Nurses who want to work in adult gerontology must take and pass the Adult-Gerontology Clinical Nurse specialist certification.
This exam assesses whether a candidate has the necessary entry-level knowledge and skills to succeed in this profession. Those who pass the test receive the Adult-Gerontology Clinical Nurse Specialist-Board Certified (AGCNS-BC). Here everything you need to know about the test.
What are the eligibility requirements to take test?
Candidates must hold a registered nurses' license.
Candidates may also take the test provided they have graduated with an advanced degree (Masters, Postgraduate or Doctoral) from an accredited adult-gerontology clinical nurse specialist program. Candidates must have at least 500 hours of faculty-supervised clinical hours in the adult-gerontology role. Exam candidates may be able to take the test prior to graduation provided all eligibility requirements have been met.
International candidates must meet all the requirements and pay an additional fee.
What does it cost to take the Adult-Gerontology Clinical Nurse specialist certification exam?
Fees depend on whether you're a member of the following organizations:
American Nurse Association members pay a $295 exam fee.
Members of the American Association of Nurse Practitioners, Gerontological Advanced Practice Nurses Association, and the National Association of Clinical Nurses Specialists pay a $340 fee.
Non-members pay $395.
All fees include a non-refundable $140 administrative fee.
How is the test scored?
The test is scored on a pass/fail basis. The passing score is variable depending on the difficulty of the exam questions taken. Candidates will be notified of their preliminary test score before they leave the exam room, and they'll receive written notification in the mail.
Candidates who fail the exam may retake it up to three times in a 12-month period. There is a $270 retest fee.
How long does the certification last?
The certification lasts five years, Candidates can be recertified provided they meet continuing education and other requirements and pay a recertification fee. Fees vary, depending on your membership in a professional organization that has a fee arrangement with the American Nursing Credentialing Center (ANCC).
Where can I take the Adult-Gerontology Clinical Nurse specialist certification test?
The American Association of Critical Care Nurses has entered into an agreement with a test service provider that has hundreds of locations across the United States.
What can I expect on text day?
You should arrive at the test center prior to the test time to ensure you're not late. Late arrivals run the risk of being denied entrance into the exam room. Make sure you bring a government-issued ID card with your test authorization documents.
What's on the test?
There are 200 questions on the test. Of those, 175 are scored but 25 are not. There are three categories of content called "domains of practice."
Direct Care. This category has 96 questions and tests knowledge in five categories.

Advanced health assessment
Diagnostic reasoning
Advanced Physiology/Pathophysiology
Plan and coordination of care
Interventions and Outcome Evaluations

Professional Practice. This category has 36 questions in three categories.

Inter- and Intraprofessional Communication, Collaboration, and Consultation
Staff coaching and education
Professional Accountability/Ethics

Systems Leadership/Quality Outcomes. This category has 43 questions in three categories.

Systems Leadership
Quality/Outcomes
Research/Evidence-based Practice

Where can I find a study guide that can help me prepare for the exam?
Mometrix can help. Our detailed study guide has been designed by professionals who understand the test-taking field. Our guide will walk you through the test areas that tend to be tough for candidates and show you how the navigate those difficult questions. Our flashcards are just as valuable. They're easy to use with clear answers to the types of questions that will help you prepare for the Adult-Gerontology Clinical Nurse specialist certification.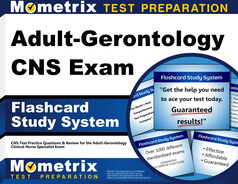 Adult Gerontology CNS Flashcards. Proven Adult Gerontology CNS test flashcards raise your score on the Adult Gerontology CNS test. Guaranteed.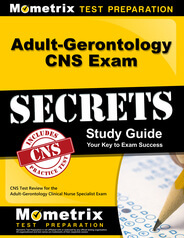 Prepare with our Adult Gerontology CNS Study Guide and Practice Questions. Print or eBook. Guaranteed to raise your score. Get started today!